A Solar Powered Survival Trailer

Solared Survivor is a fully equipped, turn-key solar powered survival trailer, whose main purpose is to provide a lifeline to you and your family in the event of an emergency or disaster.    

Order Your Very Own Solared Survivor Trailer Today!
or
    Email us at: info@solaredsurvivor.com  
for Price and Availability
Don't Wait for a Disaster to Strike, Create an Emergency Lifeline for Yourself and Your Family Now!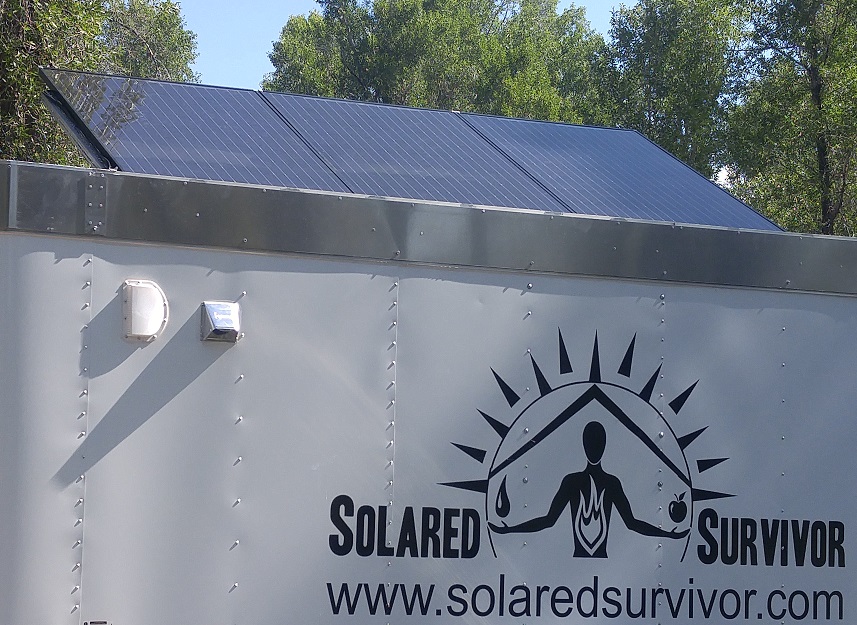 Powerful Solar System w/ Battery Bank; Creates and Stores its own Power
An Endless Power Source for Camping or Living Off-Grid for Extended Periods of Time.  During Power Outages, use it as a Solar Generator to provide Power to your Home.  Keep it Plugged into your Home to Reduce your Electric Bill and keep certain Circuits Grid-free and Immune to Blackouts.  A Solar System you can use at Home and Take with you Where Ever you go.
Click here for complete Solar and Electrical Specifications

---
Extensive Water Supply and Water Collection System
The Several Water Tanks throughout the Trailer are Allocated for Collection, Filtration, Storage, and Grey Water.  The Entire Roof is a Rain Water Catch System.  Water that Falls on the Solar Panels is Pre-Screened, Collected and Automatically fed into a Water Filtration System.  The Trailer has Several Methods of Water Purification for Converting a Skeptical Water Source into a Viable Drinking Supply.  If you Live Along the Coast, an Optional Desalination Pump is Available for Converting Salt Water to Fresh Water.
Click here to view all Water Components and Features

---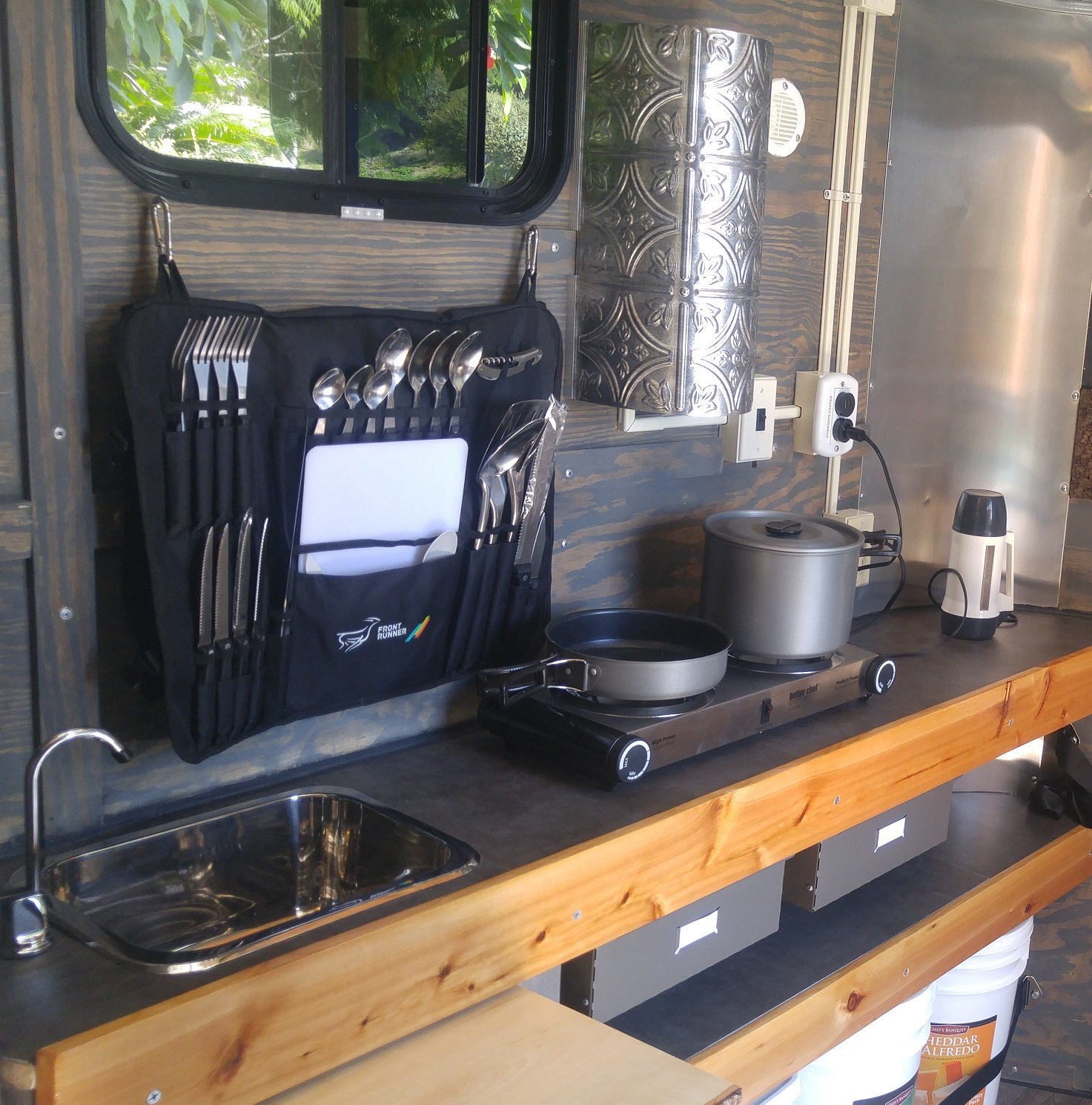 Indoor Kitchen and Emergency Food Supply
As Opposed to other Survival Trailers, Solared Survivors Kitchen and Food Supplies are Located Inside and the Kitchen is Completely Electric and Powered by the Solar System and its Batteries.  Food Supplies are Safe Inside and there is No Need to go Outside into the Elements or into an Unsafe, Unknown Situation to Cook.  There are No Concerns of Resupply or Running out of Fuel and Rendering your Cooking Gear Useless.  Its Fuel is Always being Replenished.
Click here to view the Kitchen

---
Trailer Comes Fully Equipped
All the Equipment Needed to Live Off the Grid Indefinitely is Included.  The Focus isn't on an Emergency Supply of your Resources, it's on Having the Equipment that Allows you to Resupply those Resources.  We Remove the Guesswork from what Gear you Should Include and Provide it for you.
Click here to view all the included Equipment and Storage


---
Transforming Living Space
The Trailers Main Living Space Transforms from a Closet with Personal Storage, to a Living Room with a Couch and a Coffee Table, to a Bedroom with a Nightstand. This Section of the Trailer Completely Folds Up Against the Wall to Allow the Owners to Still use the Trailer to Haul Bikes, Motorcycles, and any other Cargo.
Click here to see the different Living Space Transformations

---
Visit our Survival Trailer Page to learn about all it's Features and Capabilities. Or for additional information, Email us at: info@solaredsurvivor.com 

Informational Resources
The survival trailer is the essence of Solared Survivor.  In addition, one of our main goals is to create an informative website to provide people with crucial information on Power, Water, and the Critical Equipment, Gear and Resources you need to create a lifeline for yourself and your family, based on surroundings and potential threats.

| | |
| --- | --- |
| Water Resources | Design Resources |