Backpacking Yosemite

Shear granite faces that are draped with cascading waterfalls makes backpacking Yosemite a highly desirable destination for most back country enthusiasts.  The problem is, when wilderness permits become available, they are quickly reserved 6 months in advance.  You have weekend warriors to people hiking the entire JMT.  It doesn't matter the duration of the trip.  The forest service simply limits the number of people that are allowed to enter on each trail per day.  For good reason. It's a manageable amount of people for them to maintain the integrity of the wilderness.  If it was a free for all, the overwhelming human footprint and impact would degrade the natural beauty of the park and there wouldn't be anyone interested in backpacking Yosemite.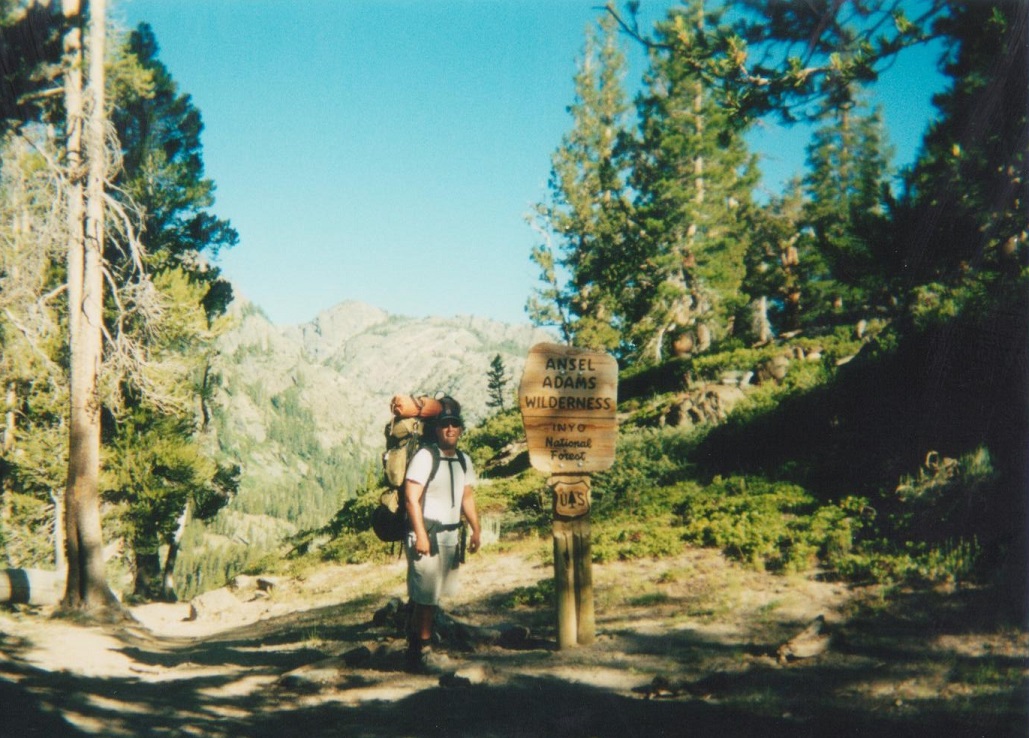 Ansel Adams Trailhead
There is a way to plan an amazing 7-day trip backpacking Yosemite, that allows you to see much more of the Wilderness, without any of the crowds. More importantly, you can easily obtain a wilderness permit for this trail, just by knowing how the wilderness permit system works.  The forest service limits the number of people that can enter a trail per day.  Once you enter the wilderness, you can go wherever you want and EXIT wherever you want.  Start your hike in Mammoth from the breathtaking Ansel Adams Wilderness for a 50-mile, 7-day trip and exit in Yosemite Valley.
  Wilderness Permits for Backpacking Yosemite

Day 1: Agnew Meadows to Thousand Island Lake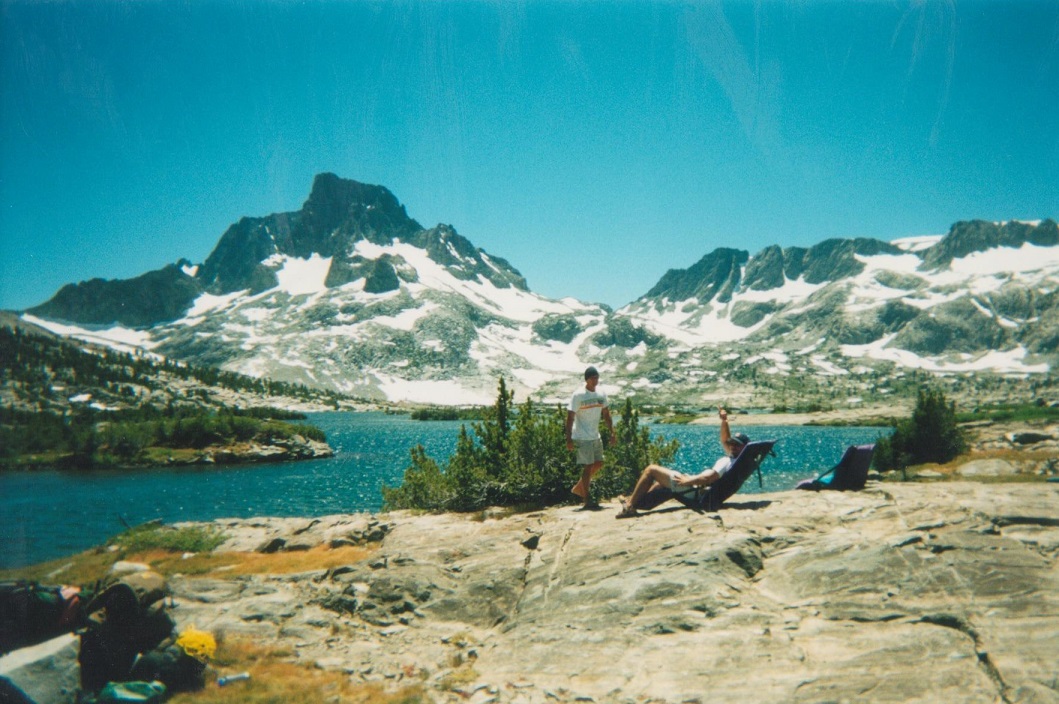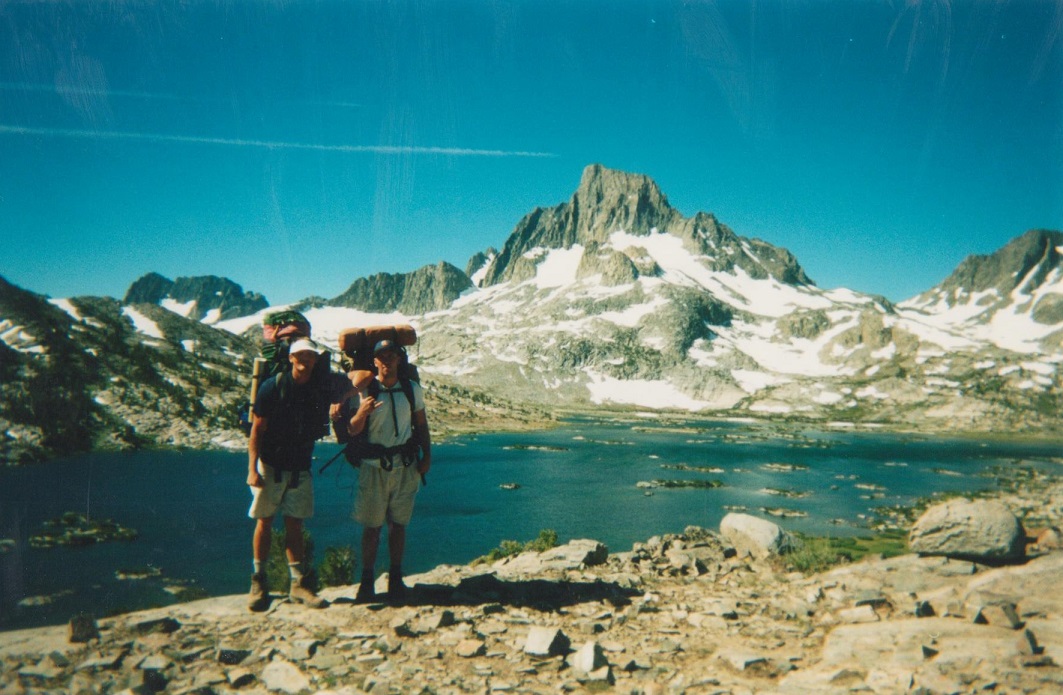 Agnew Meadows is one of the upper most campgrounds in the Ansel Adams wilderness, just north of the Devils Postpile Monument and Reds Meadows.  There are 3 or 4 trailheads that leave Agnew Meadows, so obtaining a permit for one of them on your planned entry date, shouldn't be a problem.  Your first day is a gradual 9 mile hike up about 1300ft to Thousand Island Lake.  I have no idea if the salad dressing was named after this lake, but it should be!  It's a spectacular backdrop for your first night.  A massive lake, speckled with hundred of islands throughout it, situated at the base of Banner Peak.  This is the moment you realize you made the right decision to hike Yosemite via this route.  These are sights of Ansel Adams Wilderness that people who thought they were one of the lucky ones and obtained a permit to enter from Yosemite Valley, will ever see.       


Day 2: Thousand Island Lake over Donohue Pass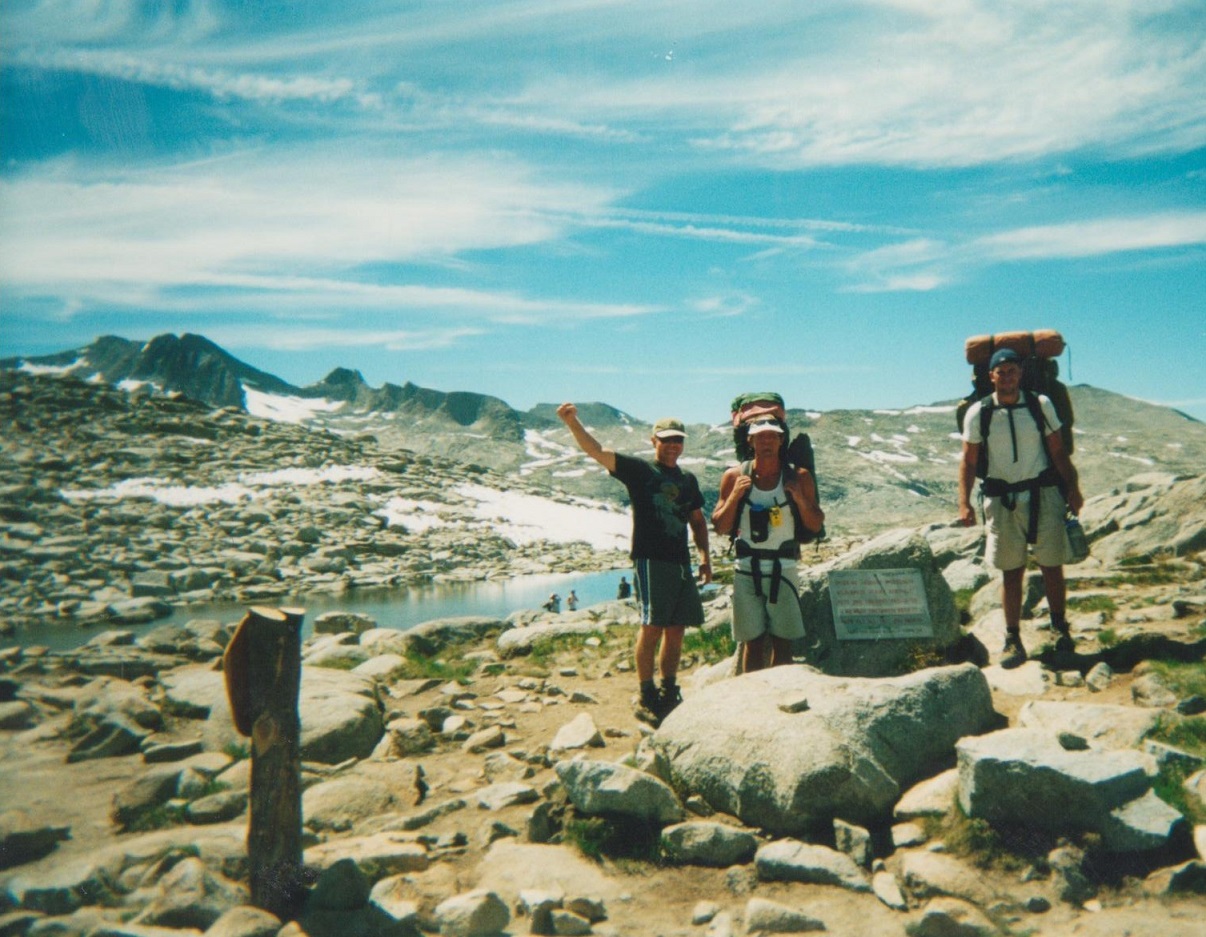 Donohue Pass
Once you leave Thousand Island lake, you have a 6 mile hike up another 1300ft to the top of Donohue Pass.  Donohue Pass divides Ansel Adams Wilderness and Yosemite Wilderness.  Since we aren't in shape yet, our packs are at their heaviest since we haven't eaten through them yet, and we just hiked 15 miles and gained almost 3000ft of elevation in 2 days, we are pretty beat by the time we get to the top of Donohue Pass. So we usually make camp at the first water spot, which happens to be a little glacier run-off lake at the base of Donahue.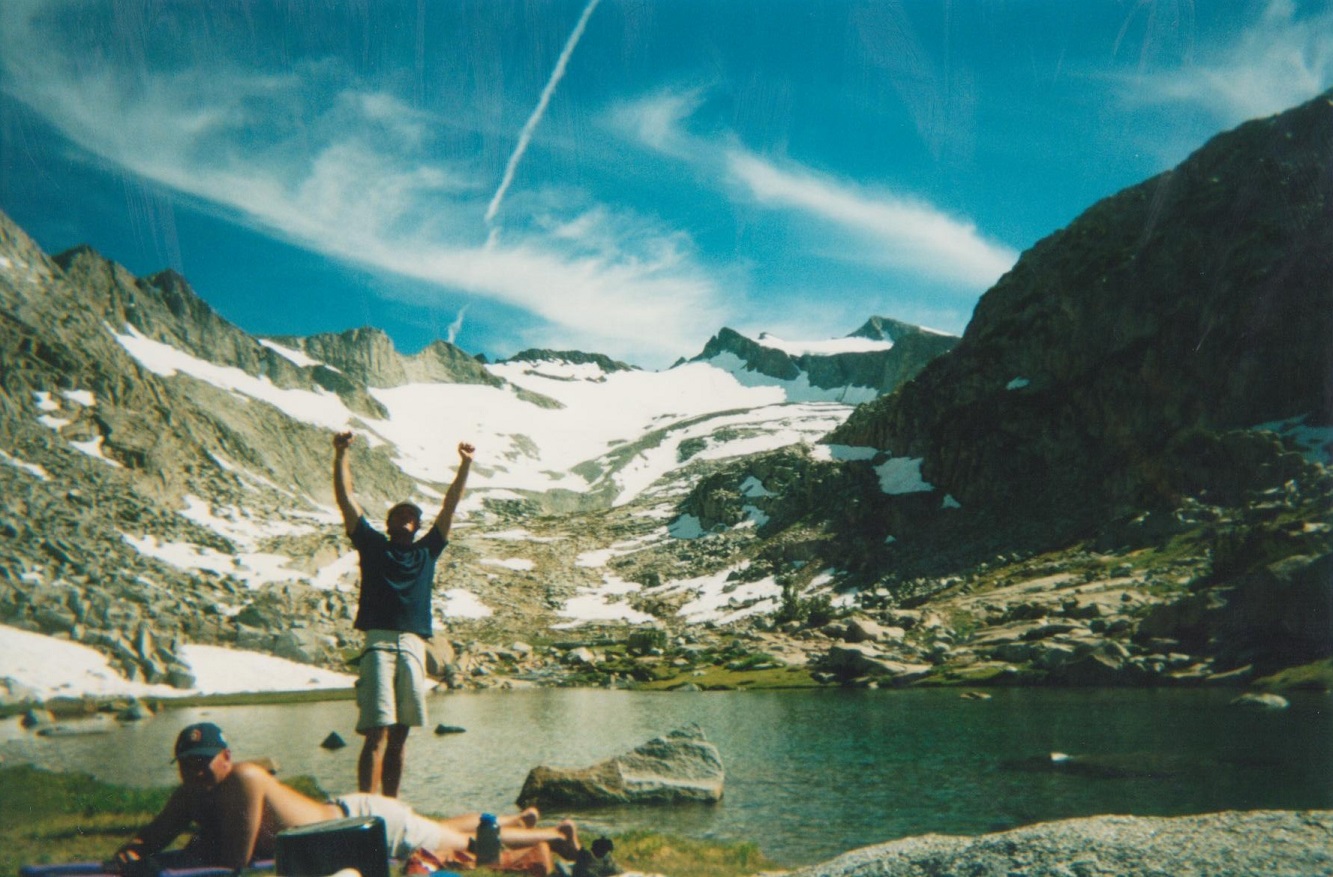 Lake Below Donohue Pass

Day 3: Lyell Canyon to Evelyn Lake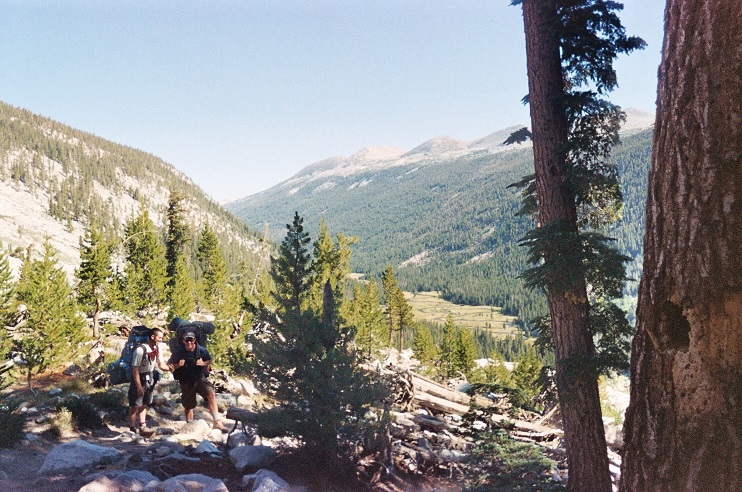 Lyell Canyon
The glacier lake below Donohue pass is the southern most point and start of Lyell Canyon.  The next 5 miles is spent hiking down into the floor of Lyell Canyon and hiking through it's meadow and stream system.  Its a great hike with magnificent views, go slow and take it in.  Take a lunch break at the trail junction next to the stream, since the next leg is a 3 mile, 1400ft hike over the pass that puts you at the very top of Yosemite Valley.  At this point, a majority of your elevation gain for your entire hike is over.  Backpacking Yosemite on this route allows you to get your elevation done early and spend the next couple days hiking downhill and enjoy the scenery.  After all the uphill, it's good time to take a break and recuperate.  Make camp about a mile and half down the trail from the pass at Evelyn Lake.


Day 4: Layover at Evelyn Lake
After 3 days of hiking, 25 miles and 2 passes, its a great time for a layover day.  Rest up, do some laundry and of course, get some fishing in.  After all, this is our yearly vacation and we're not into rushing through it.  We want to relax and enjoy everything it has to offer.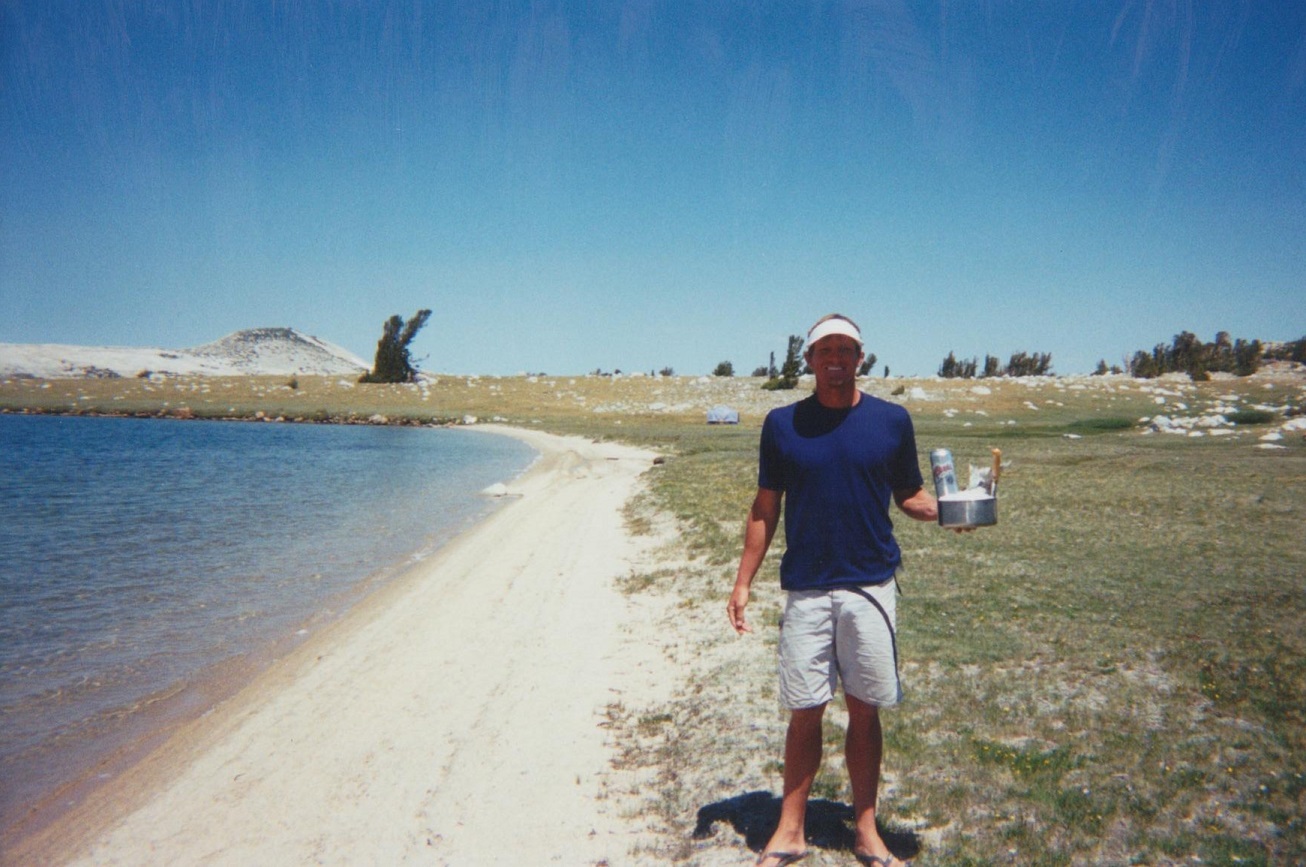 Evelyn Lake
 Evelyn is a spectacular lake for several reasons.  It sits on a plateau looking over a valley to the right.  There is a tree line a couple hundred yards from the lake to give your campsite cover if you would like.  The lake has a beach, which is rare for high altitude lakes and great for access to purify water, to bathe, and do laundry.  Plus, most high elevation lakes in the Sierra's tend to have small fish but the fish at Evelyn are a good size.  We spend the morning doing our chores and the rest of the day fishing for our dinner and getting rid of some weight.  In the form of some well deserved Coors Tall Boys! 


Day 5: Evelyn Lake to Merced Lake
We pack-up, say goodbye to Evelyn Lake, and work our way further down into the Valley.  You'll pass the high sierra camp at Vogelsang.  They have large permanent tents with cots and heaters inside. The camp has bathrooms and a dining room that serves alcohol and chefs that cook your food.  They even have a camp store.  The camp caters to people who want the wilderness experience but don't necessarily want to rough it or hike to get there.  Most get carried up to camp on horseback.  The pain and work that comes with backpacking Yosemite makes the views and scenery that much more beautiful, because I had to work for it.  To me, it just wouldn't be as awesome, if I took an escalator or a horse up the mountain. 
We curse the camp and put it down as we walk by.  But then as soon as we turn the corner, we look at each other and say, "That would be fun to take the wife, huh?" They are pretty awesome!  There are several High Sierra Camps in Yosemite.  They're so high in demand, that they no longer take reservations. It's set up as a lottery now.  High Sierra Camps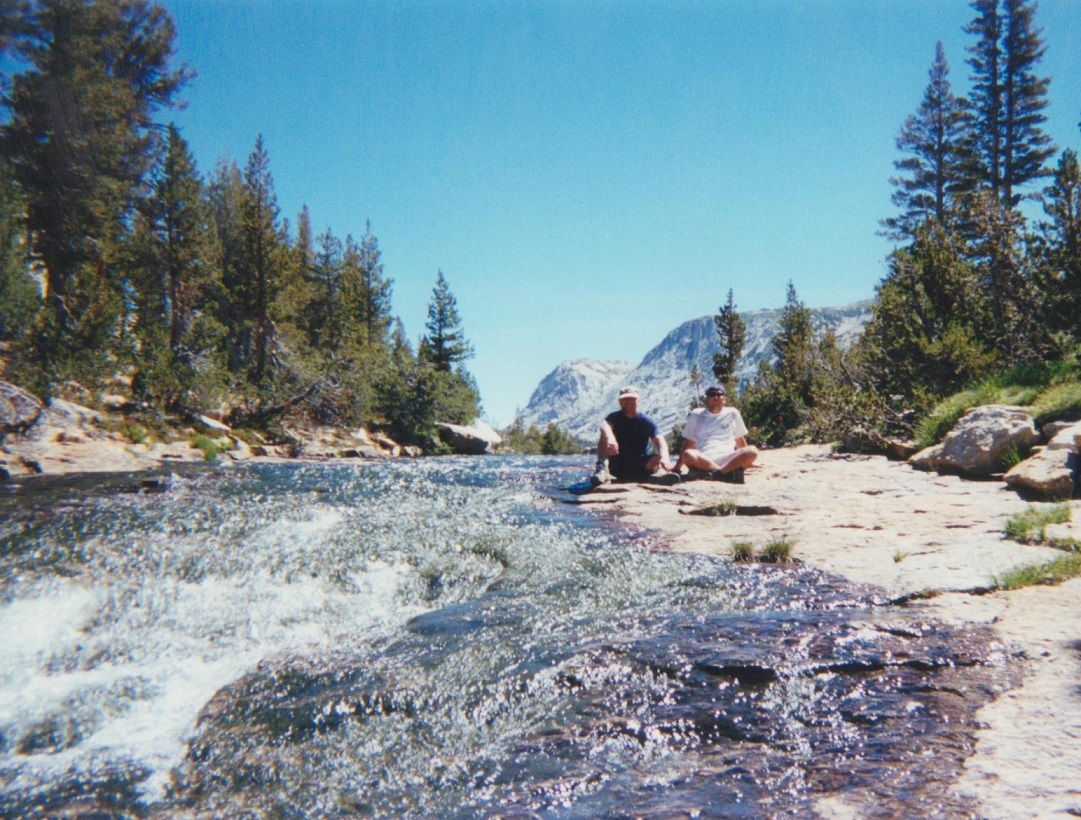 Its a very casual 10 mile hike down to Merced Lake.  Sometimes downhill can pound the knees and quads and be more intense than the cardio uphill hiking. But this is a very gradual decent.  You'll be fresh off your layover day and average between 2 to 3 miles an hour.  Although it's 10 miles, you'll be done in 4 to 5 hours. So be sure to take your time and enjoy the scenery along the way.  You're seeing more exposed granite faces and more water features as you get further down the valley.  Stop and jump in!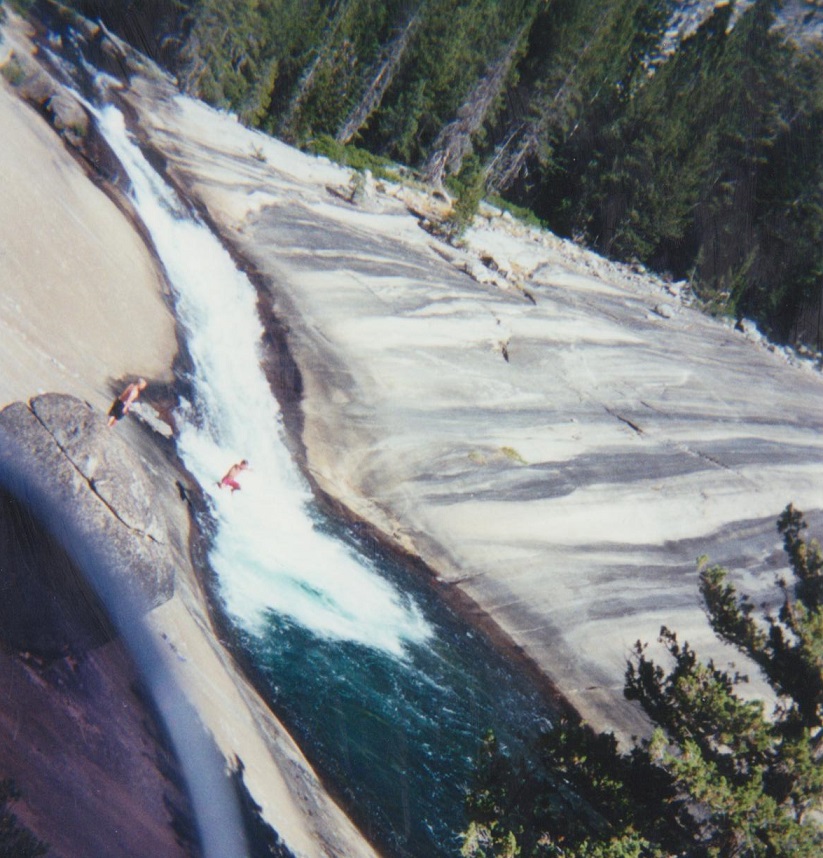 There is no sense in hurrying down just to sit at camp.  You'll still have plenty of time to make camp, have dinner and throw a fishing line in at Merced.  We found the best fishing at Merced was in the streams exiting the lake on the west side.  The side opposite of the campgrounds.


Day 6: Merced Lake to Half Dome to Little Yosemite Valley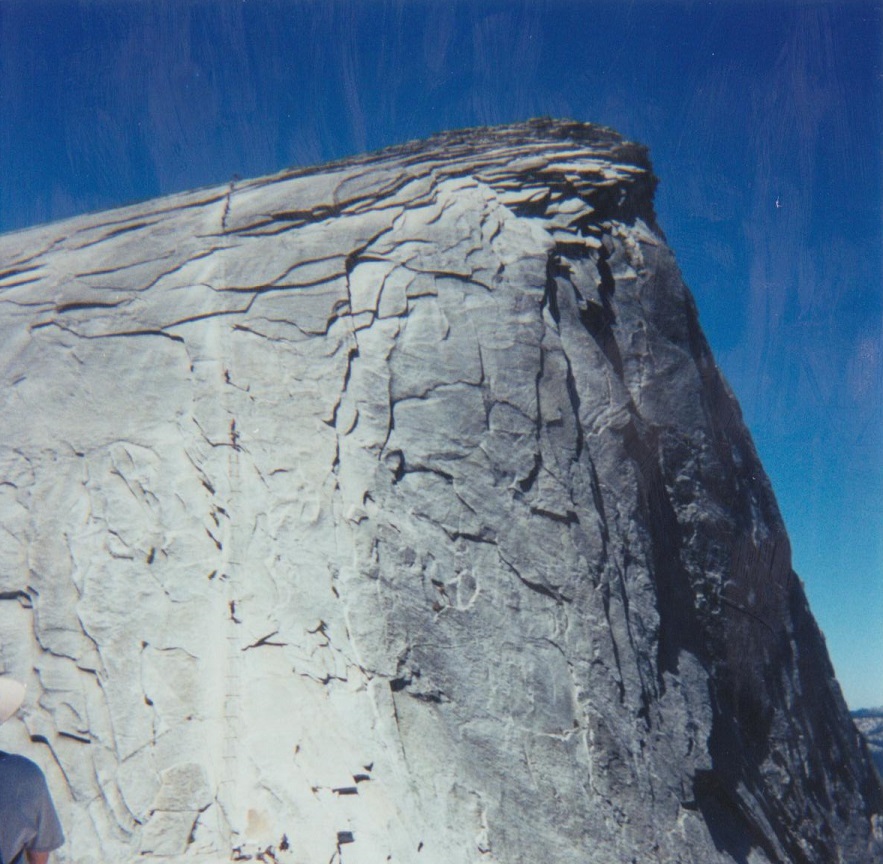 Half Dome
As soon as you leave Merced Lake, you drop down further into the Yosemite Valley and Half Dome starts to come into view.  You have a couple choices at this point.  You can take the lower trail straight to Little Yosemite Valley campground, make camp, and then hike up to climb Half Dome. This will add more miles.  Or you can take the upper trail to Half Dome, leave you pack at the trail, climb Half Dome, then head to Little Yosemite Valley campground and make camp. 
The same philosophy applies to this hike, as the hike to down to Merced Lake.  It's all downhill, you have plenty of time, so stop. enjoy the scenery and all that comes with backpacking Yosemite.  You may never be back.  Enjoy the granite walls, the rack formations, the waterfalls and waterslides along the way.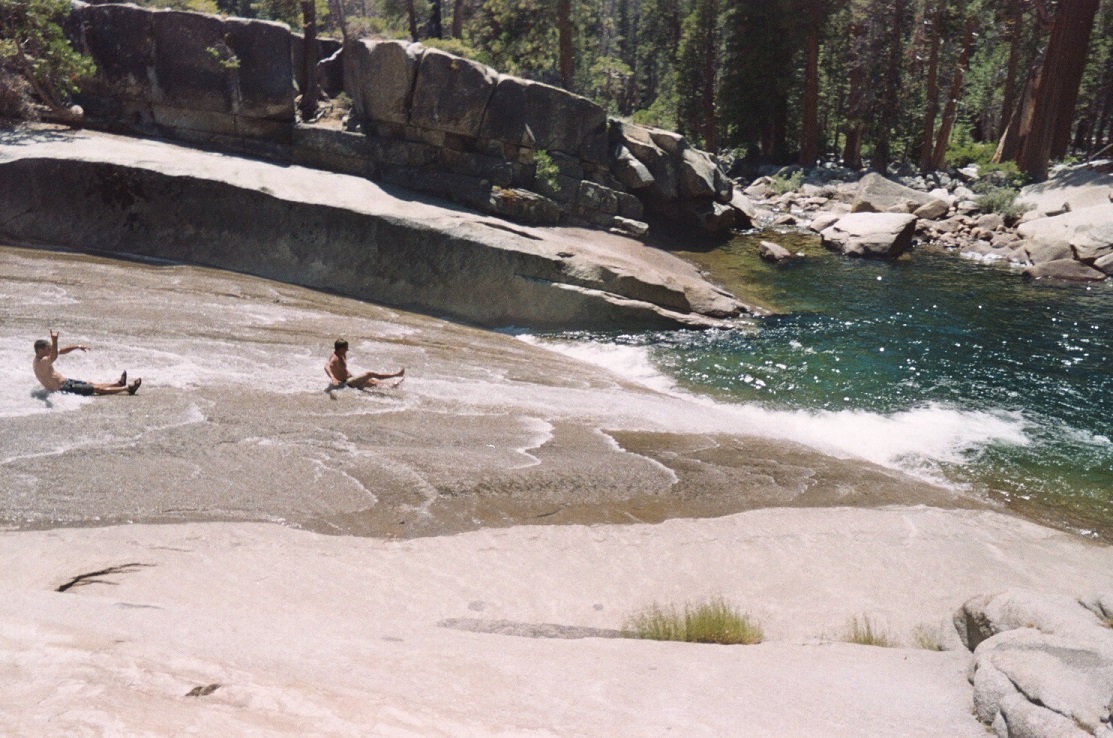 Merced River
You really shouldn't be in a hurry to get to Little Yosemite Valley and I'll tell you why....


Day 7: Little Yosemite Valley to Happy Isles Nature Center
Last Day Backpacking Yosemite

After your night camping at Little Yosemite Valley, you really start to appreciate the solitude that came with the Ansel Adams Wilderness and the trail you traveled for backpacking Yosemite. The time and peace you had with yourself, your group and the amazing back country.  Because that solitude and peace is now gone!  Little Yosemite Valley is the closest thing to a campsite with standing room only.  Its the first campsite up and only 4 miles from the Happy Isles Trailhead.  Its the destination for anyone backpacking Yosemite; Weekend warriors and the first nights stop for JMT or multi-day trekkers.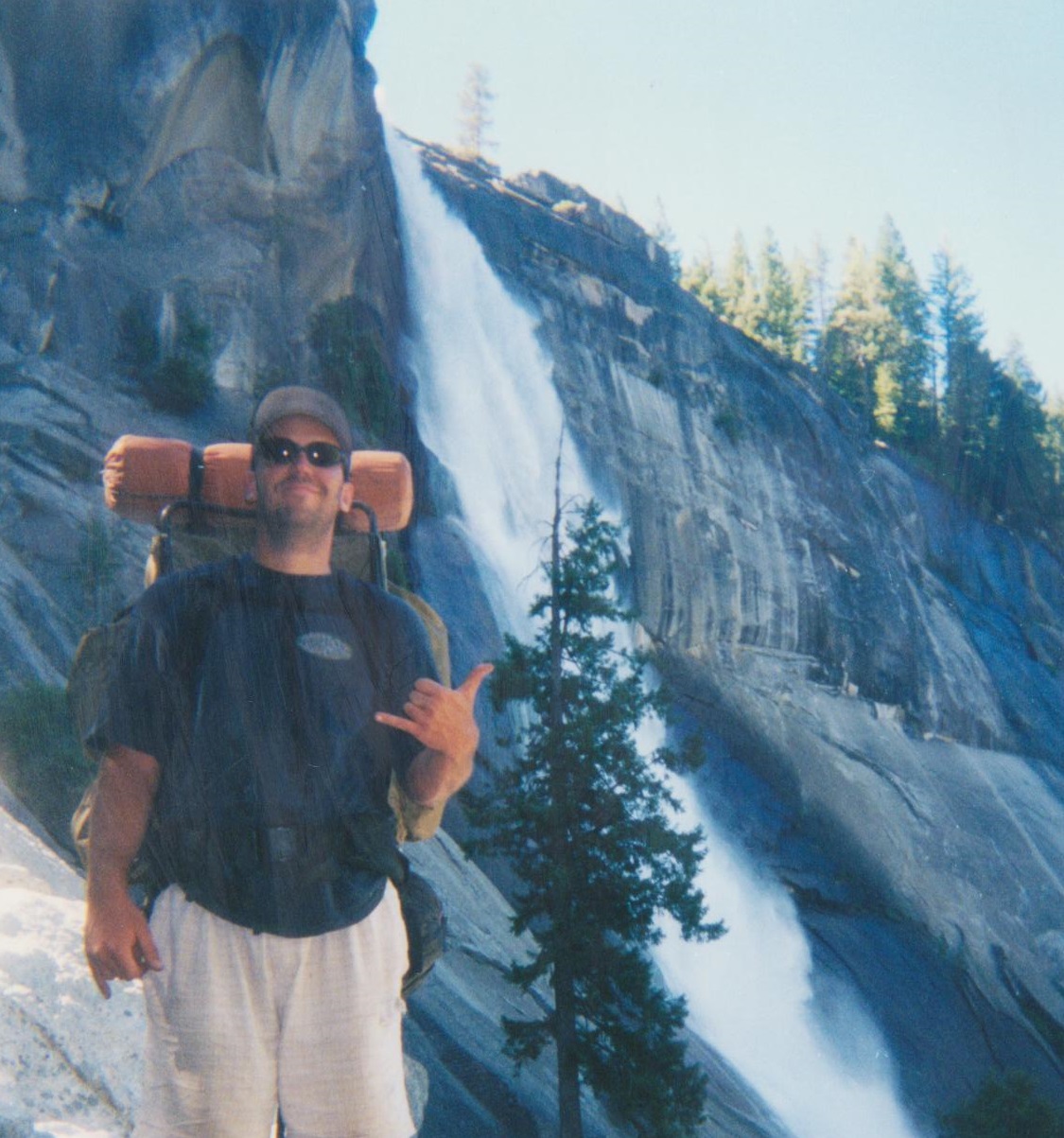 Nevada Fall
You leave and head towards your exit at Happy Isles Trailhead. About a mile down you'll hit Nevada Fall and then Vernal Fall shortly after that.  The waterfalls are beautiful, stop and enjoy them, even though you will have more company than you've been used to. The falls are also very dangerous!  Especially after a big snowpack year with a lot of water run off. Obey the signs. Every year someone climbs over the chain at the falls that says "Do Not Cross" for a better picture.  It costs them there life, and the life of their friend who tries to save them, only to get sucked over with them.
Be prepared, this is a crowded 4-mile walk.  This is the trail everybody takes if they have an overnight permit for that day.  And you don't need a permit to take the trail for a day hike to the falls or Half Dome.  If you are hiking out on a weekend, the crowd is worse than Disneyland!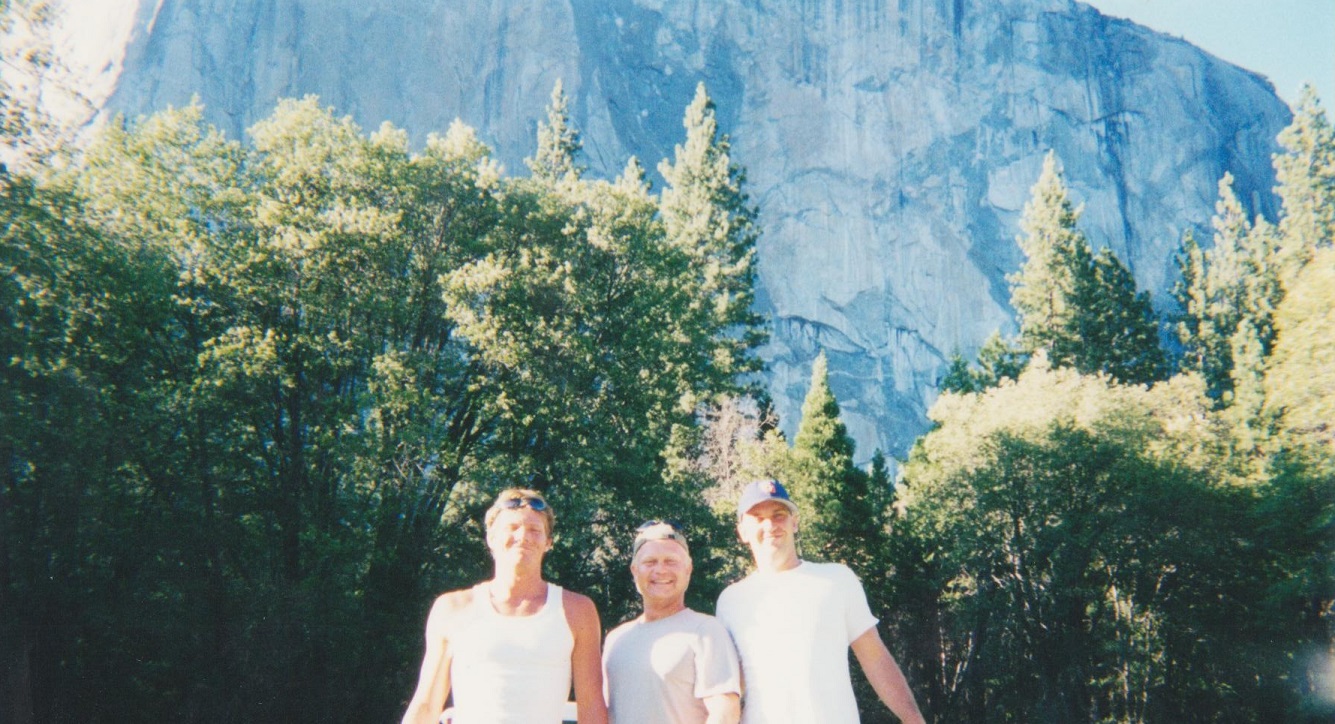 Base of El Capitan
You'll reach Happy Isles in no time and can sit down and enjoy a well deserved Burger and a Beer.  If you can, stay the night at the lodge and enjoy the valley.  It really is one of a kind.  It's a great place to reminisce, absorb the process of your hike and tell your story.  Most people there are car camping or just going in for one night.  They are always impressed and interested in hearing the adventures of the week long backpacking Yosemite trekker!  On your way out, be sure to get a picture at the base of El Capitan. We did!

Home
›
Backpacking Trips
› Backpacking Yosemite