Survival Gear Checklist; The Essentials

A survival gear checklist should include the essential components necessary for you to obtain your basic resources; Shelter, Water, Food, Heat and even Power makes my list.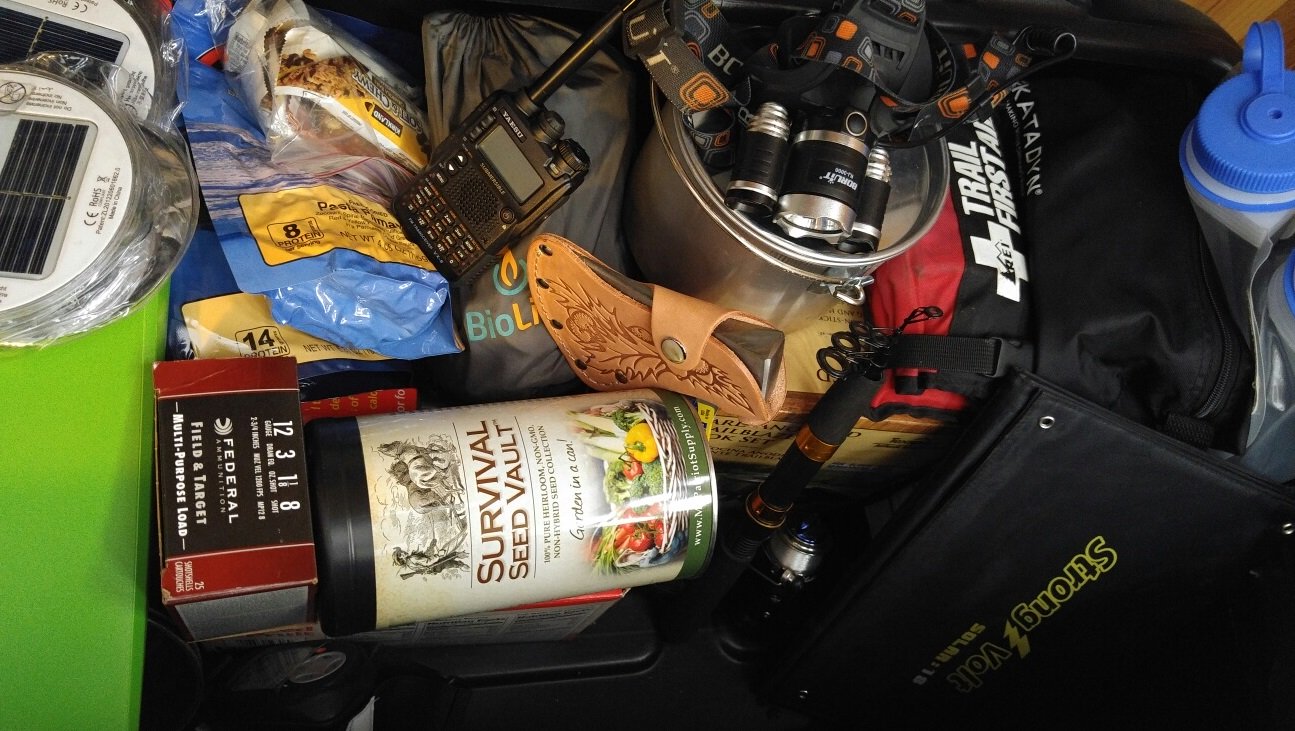 It drives me crazy when people tell you to get prepared by putting together a 3-day get out bag.  What's that get you?  You guessed it, 3 Days!  I can't fathom preparing to just survive for 3 more days.  I understand the philosophy.  Most emergency responders try to be on location within 72 hours and people figure they just need to bridge that gap and then help will be there. 
But there are no guarantees that anybody will even be aware of your situation.  Or if they are, that they will be there within 72 hours.  And if they are, that they will have enough resources for the number of people in need.  I don't mean to put down the 3-day get out bag people, a 3-day get out bag is better than no bag.  But it takes just as much effort to prepare a kit or pack that can last you indefinitely, if you choose the correct gear.


Survival Shelter
A survival shelter should be at the top of everybody's survival gear checklist.  People can interpret a survival shelter in different ways and as several different things.  I'll stay away from a bomb shelter, a war wagon, or a walled off castle to prevent zombie land invasions.  I classify a survival shelter as protection against the elements.  The elements in some places can kill you long before dehydration or starvation.  Based on your location and the season, it may be your most immediate threat
When something happens, the first thing you usually need to figure out, is where you're going, if anywhere.  Your survival shelter will depend on this, so you should consider all the possibilities.  

Possibility 1; You don't go anywhere, there is no reason to.  You lost power and utilities from a violent storm or there was an earthquake and it's not safe to be outside.  Your survival shelter will be your 

House

, best case scenario.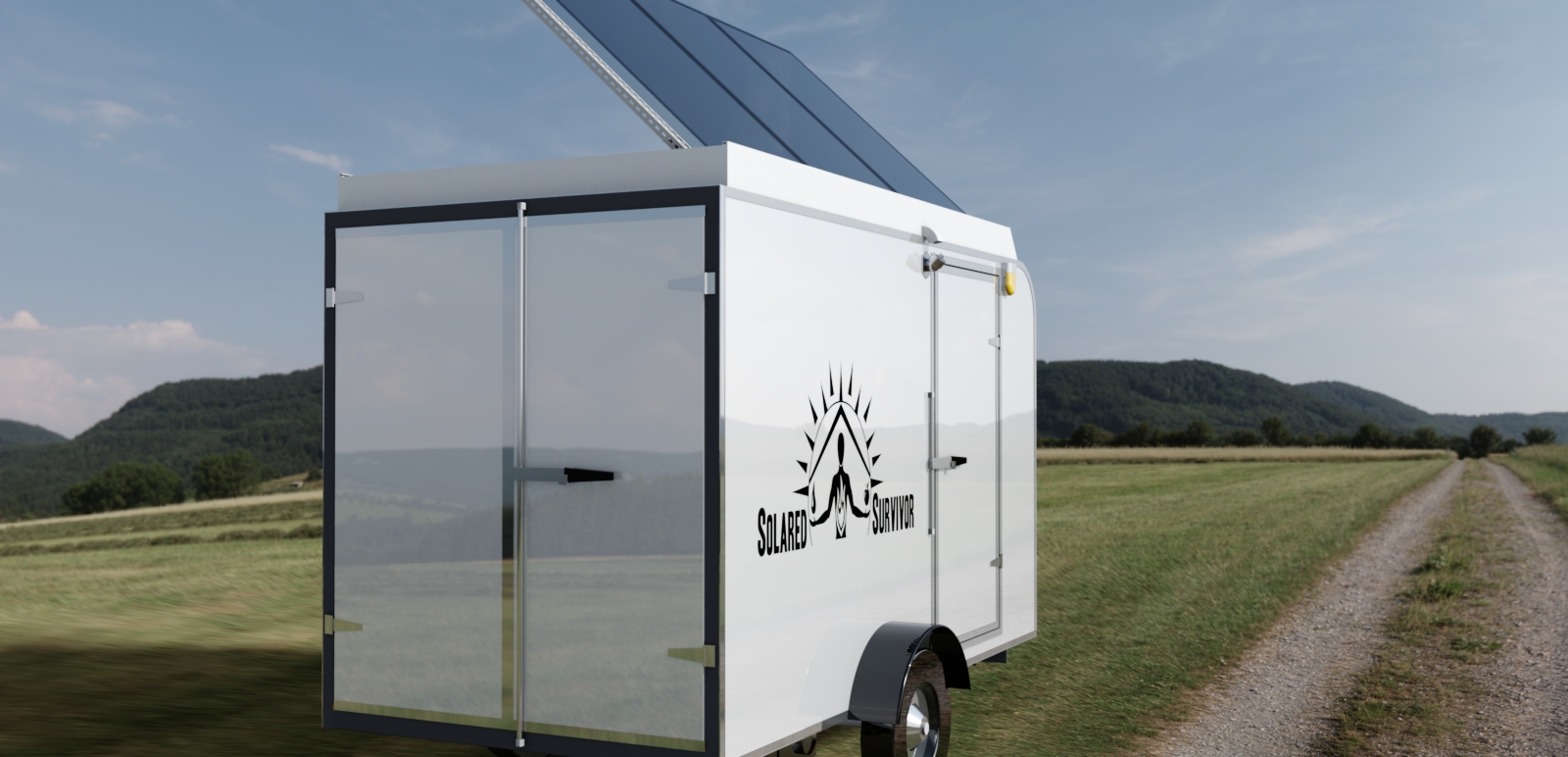 Survival Shelter - Trailer
Possibility 2; You need to get out, roads are open.  This may be because of an approaching Hurricane, Wildfires or rising Floodwaters.  A mobile shelter is your best choice.  Your car, a motorhome/camper or a trailer.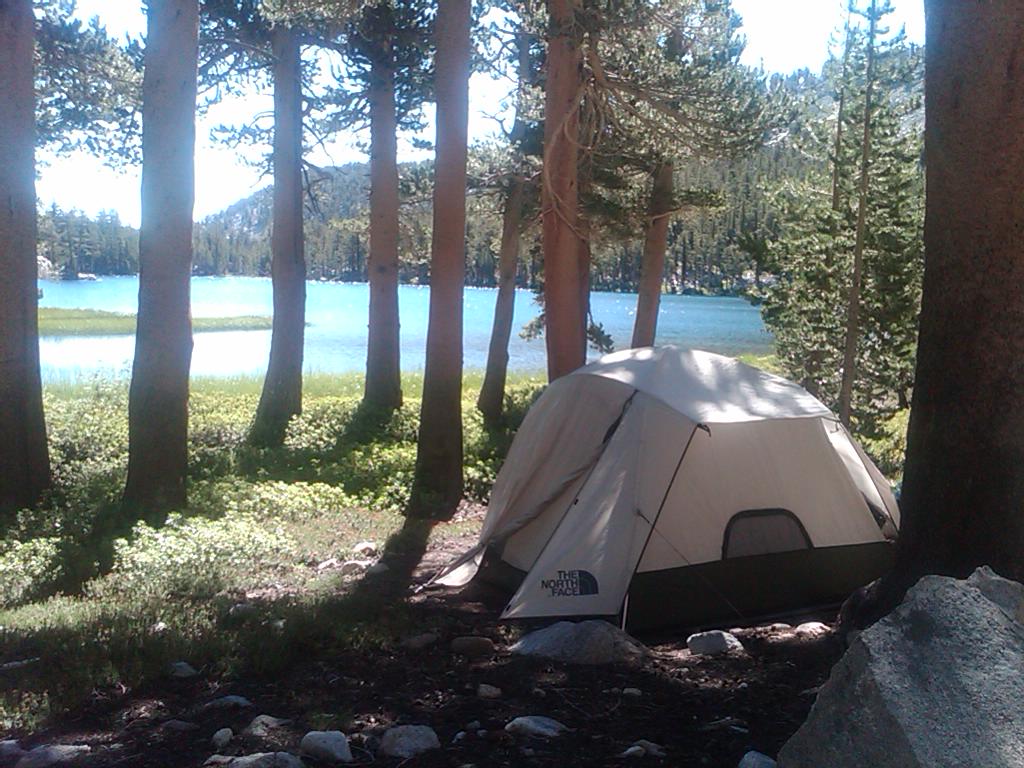 Survival Shelter - Tent
Possibility 3; You need to get out, roads aren't an option, you'll be on foot.  You'll need a portable shelter and your best option is a hiking tent.  They are light weight and roll up so you can strap them onto your pack.  It will provide protection from the sun, wind, rain, and snow.  It will provide a barrier from air and ground insects, and small critters.
Everyone should have a tent on their survival gear checklist for their portable survival shelter.  You can get one at any camping store, but pay attention to the weight.  Some can get heavy and the weight all adds up on a backpack.  A backpacking store will have better quality tents and they will be lighter in weight.  Check Kelty.    
However, these great quality, lightweight tents have a cost associated with them.  A cheaper, lightweight option for you to secure for your Survival Gear is an Emergency Tube Tent.


Heat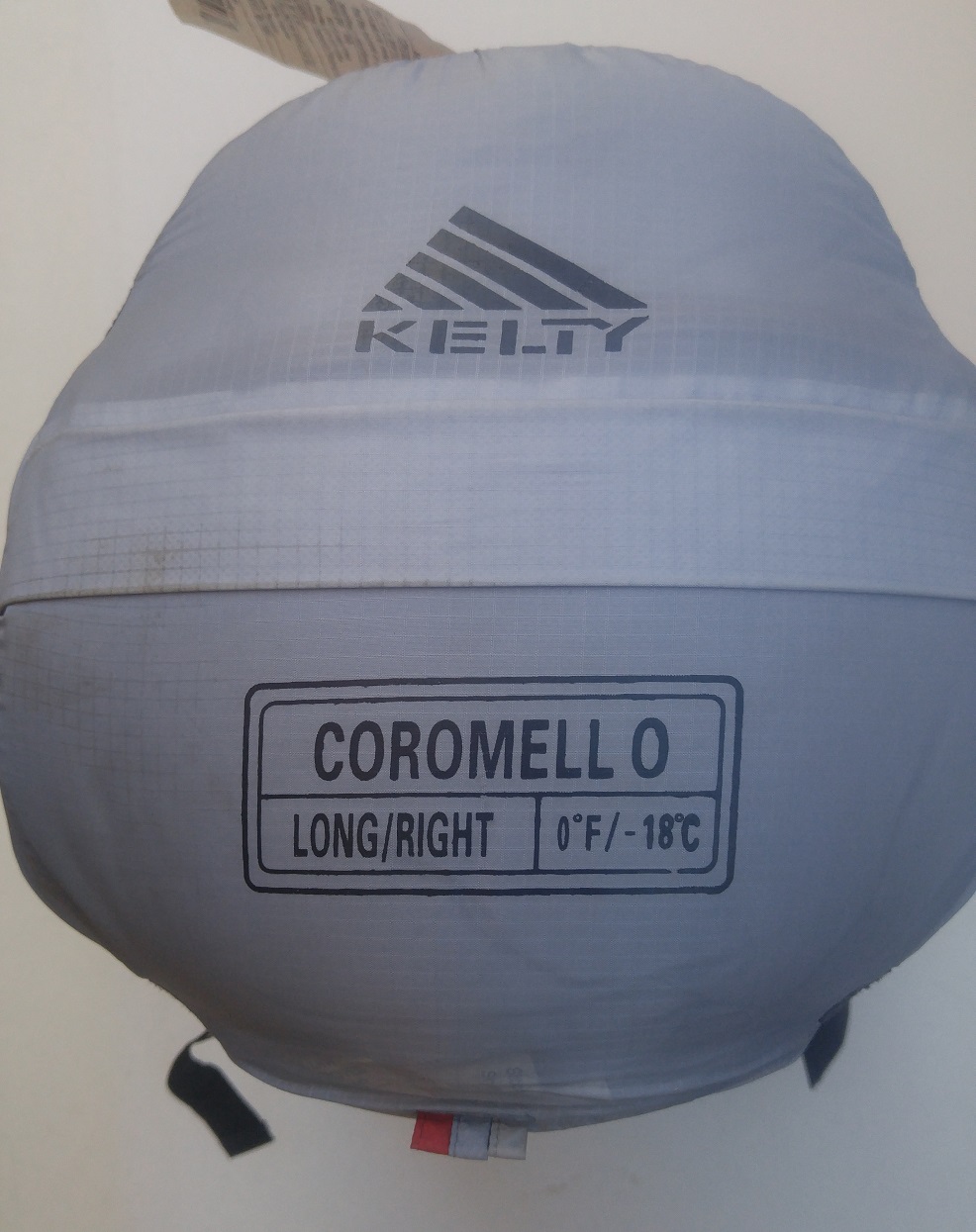 Zero Degree Sleeping Bag
A survival shelter is no guarantee of being warm and not freezing to death.  No matter what shelter you have, get a backpackers 4-season sleeping bag.  These sleeping bags will have a rating associated with them to indicate what outside temperature it can go down to and still retain your body heat inside the bag.  Make sure you have a zero or lower degree sleeping bag.  They come in a stuff sack to make storing them or strapping them to the outside of your backpack easy.  A must on your survival gear checklist.  Not necessarily for sleeping or at night, but when the temperature drops you can crawl in for warmth.
In addition, if your shelter is a tent, you'll need to have an insulated sleeping pad.  The sleeping pad makes it more comfortable than sleeping on a hard ground but the more important aspect is, it insulates you from the ground.  Even in a -30 degree sleeping bag, sleeping directly on the ground will suck the heat right out of you.
---
A fire will most likely be your most accessible way you can generate heat.  Even though you can't bring a fire into your survival shelter, you can put rocks in the fire and bring those "Hot Rocks" into your shelter.  Make sure your survival gear checklist includes a lighter and some Waterproof Matches. Since a lighter can run out of fuel and matches can get used up, it's always smart to include a fire starter that can be used indefinitely in case your out for extended periods of time.  A Fire Stick or Magnesium Strikers are great since they will work even if they get submerged underwater.  A Piston Fire Starter uses the theory of rapidly compressing air to generate heat.  You can use this forever! 

| | |
| --- | --- |
| Piston Fire Starter | Piston Fire Starter |

Emergency Water Purification
A means of emergency water purification should be close to the top of you survival gear checklist.  If you have an emergency water supply, that's great!  But it will run out and most water sources you will come across, wont be drinkable as is and needs to be treated.  A hand pump water purifier is my favorite.  They are compact for easy storage and light for transporting.  Pumping is relatively easy and fast as long as you keep up with the pumps maintenance and keep the O-rings lubricated.  Go to my page on Emergency Water Purification for more details.
Keep a back-up means of water purification as well.  A small, $10 bottle of iodine drops is ideal.
| | |
| --- | --- |
| Emergency Water Purification Hand Pump | Emergency Water Purification Hand Pump Assembly |
Click Here to Add this Purifier to Your Survival Gear.


Water Storage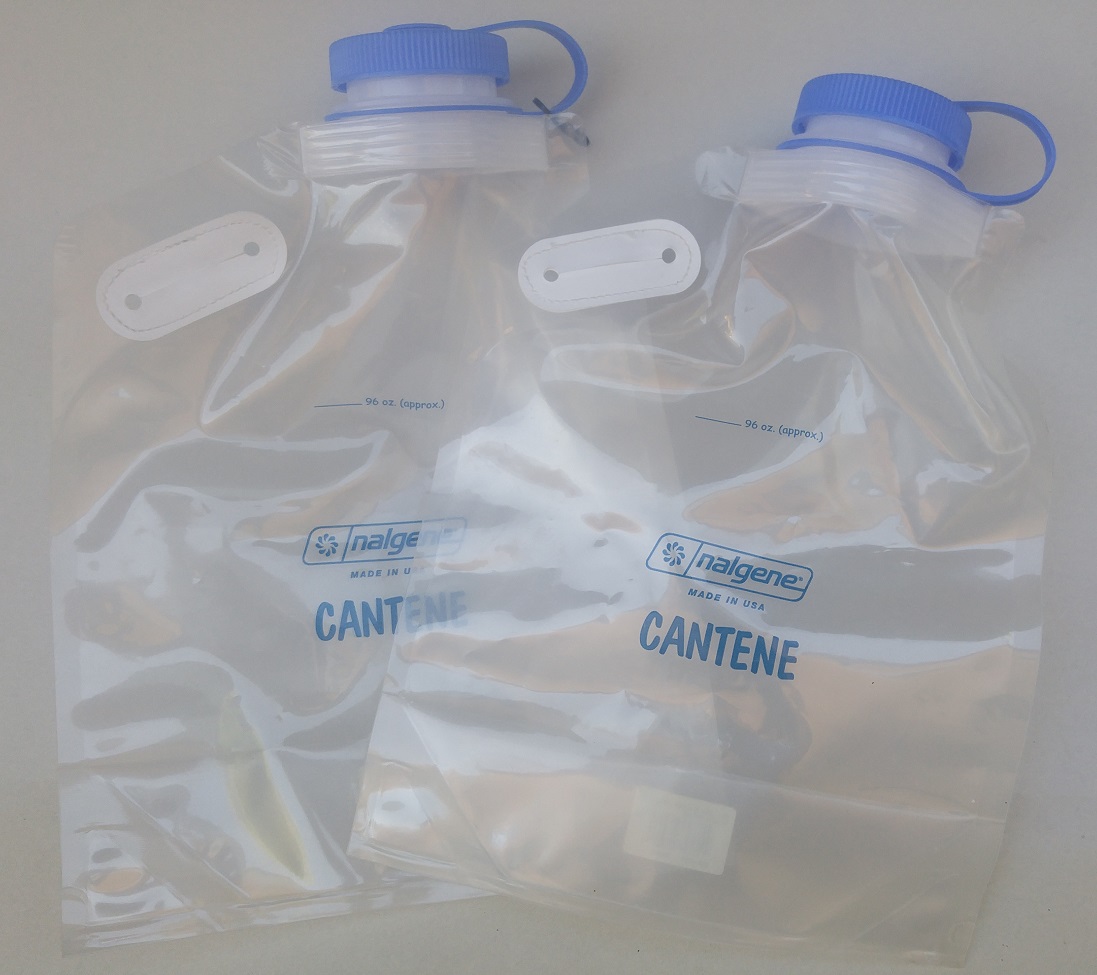 Water Storage - Collapsible Bags
Once you find a water source to purify, make sure you have a means to store the water to bring back to camp and prevent you from constantly purifying.  A 32oz, hard plastic Nalgene Bottle are the standard outdoorsman canteen that a majority of backpackers carry, for several reasons.  Most dehydrated meals require exactly 32oz of water and the Nalgene bottles have measuring marks going up the side.  Nalgene also makes collapsible bags that will hold a lot more water and can be folded and stored easily.


Survival Stove
Survival Stove Set
Most emergency food will be dehydrated and require adding hot water.  Any food you obtain from fishing or hunting will need to be cooked as well.  If you don't have a water purifier, boiling your water will be your best option for water treatment.  There are plenty of portable survival stoves with fuel that you can get, but what happens when the fuel runs out?  It's an easy fix.  Get a wood burning survival stove so you never have to worry about fuel.

Click Here to Add this Stove to Your Survival Gear.


Food
Keep and store a dehydrated food supply.  Your survival gear checklist should plan for both a bunker down and bug out situation.

Survival Food - Buckets
 An at home, bunker down supply will come in a bucket and contain several 100 servings.  The dehydrated food in these buckets have a shelf-life of 20+ years.  So you can buy it, store it, and forget about it.  These buckets food quality can vary greatly, check the nutritional value and read reviews if possible before buying them.

---
Survival Food - Meals
A bug out supply will come in individual 2 or 4 person bagged means.  Grab them and throw them into a backpack and go.  I keep a weeks worth of these meals.  They have a long shelf life, so you can store these for awhile as well.  I also keep additional long shelf-life food items like Oatmeal, Beef Jerky and Granola Bars. 
Click Here for a Large Variety of Survival and Emergency Food Options.


Emergency Home Generator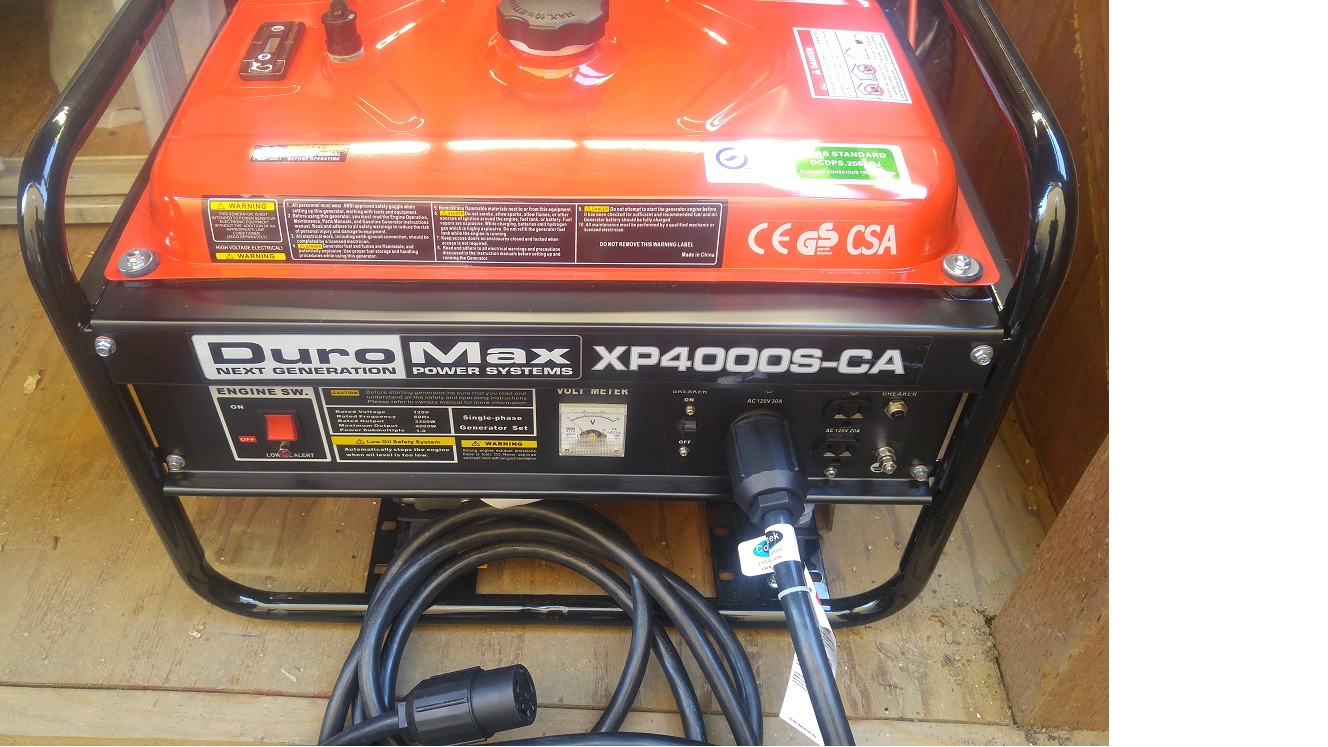 Emergency Home Generator w/ MTS Power Cord
An Emergency Home Generator is a great idea to have at your home in the case where you are going to bunker down and use your home as your survival shelter.

---
In the situation where you need to flee, a fold-up portable solar generator would be more ideal.  Power isn't always considered a must when it comes to your resources, but when you may need to charge lights, phones, or a ham radio, it starts to make a lot of sense to include it in your survival gear checklist.  My folded solar panel shown below folds out to (3) 6 watt panels for a total of 18 watts of photovoltaic cells.  It weighs 2 pounds, comes with a dual USB socket so you can charge 2 devices at the same time during the day, and a battery bank you can pre-charge and use to charge devices at night.

| | |
| --- | --- |
| Portable Solar Panel Folded | Panel w/ Dual USB Outlets |
| Panel w/ Battery Bank | Battery Bank Charging |
Click Here to Add a Solar Generator to Your Survival Gear.


Rechargeable Emergency Light
Rechargeable Headlight
A flashlight is usually on the everybody's survival gear checklist.  It's always best to have a light that is powered by a renewable energy source.  What if you're out for an extended period of time and your batteries go dead?  I recommend a rechargeable head light that you can continually recharge with your portable solar panel.

---
Self-Powered, Hand Crank Headlight
Another option, if you don't have a portable solar generator, is to utilize an abundant, endless power source to recharge your headlight, yourself! Self-powered, hand crank headlights ensure that you'll never be left in the dark at home or in remote locations.

Click Here to Add a Self-Powered, Hand Crank Headlight to Your Survival Gear. 

---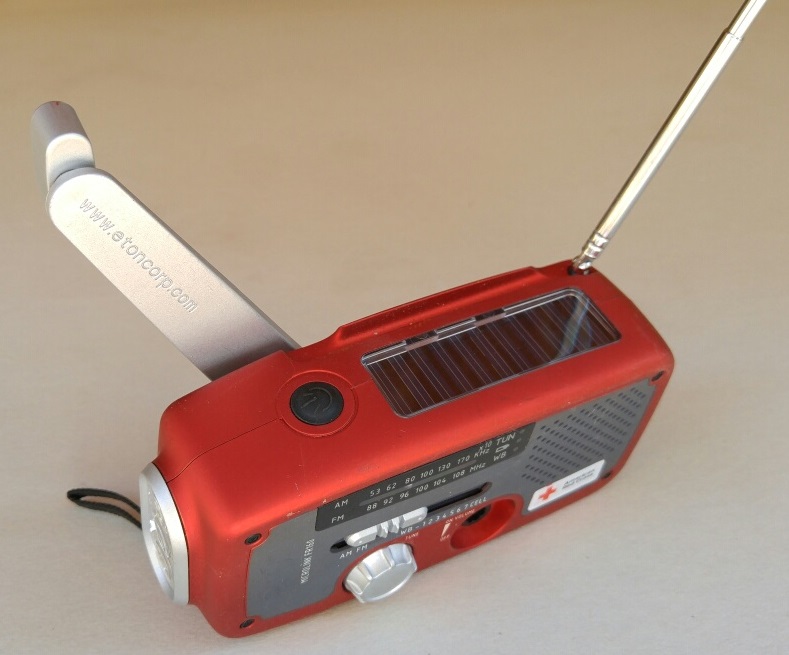 Hand Crank Flashlight / Radio
Other Hand Crank Flashlights include AM/FM/SW NOAA Weather Radio Stations and ports for charging other external electronic devices.  Constantly hand cranking in order to get light can get old fast, so some include there own photovoltaic cells so that they can be charged during the day.

Click Here to Add a Crank Handle Light / Radio to Your Survival Gear
---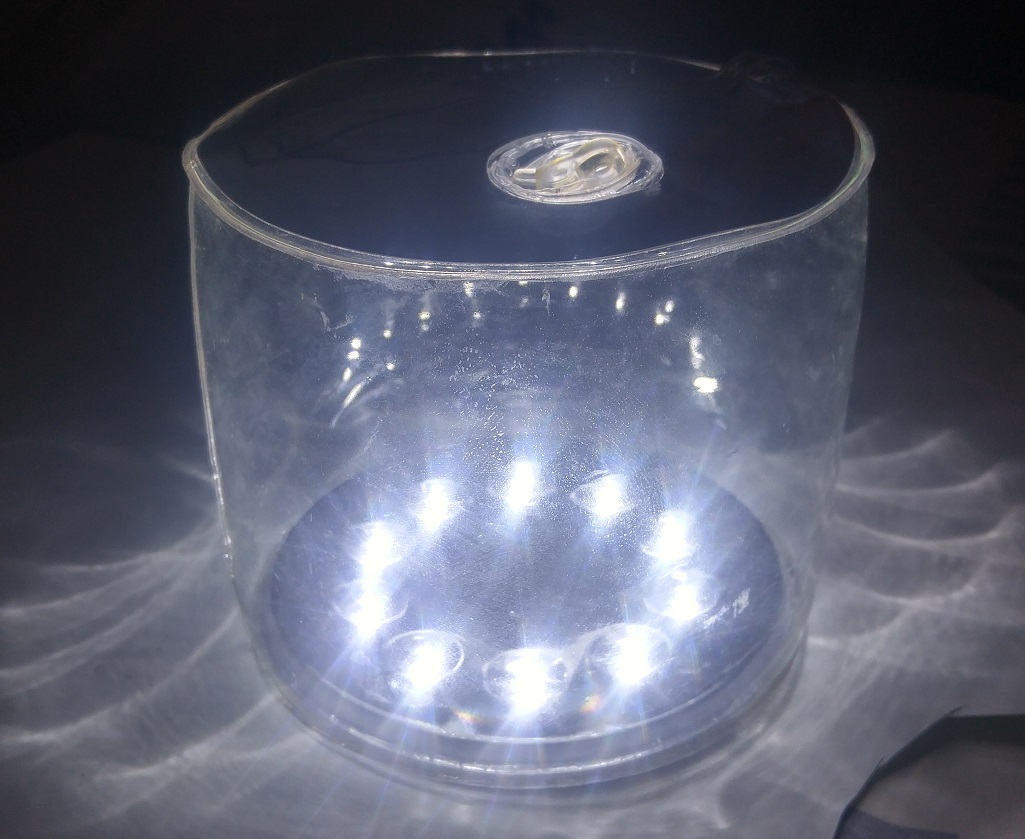 Solar Lantern
Solar powered lanterns are a great option.  They are compact when deflated and light weight.  Blow them up, set them in the sun and hang them from trees at your camp or inside your shelter.  The LED lights are bright and will last over 10 hours on a full charge.    
Click Here to Add Solar Lanterns to Your Survival Gear.

Handheld Ham Radio
Power may or may not be up and running and the same for mobile networks.  Therefore the only way to communicate or receive information is through the radio waves.  An amateur or ham radio should be on your survival gear checklist.  For information on how to obtain your FCC amateur radio license and for directories of repeaters in your area, visit my Ham Radios page.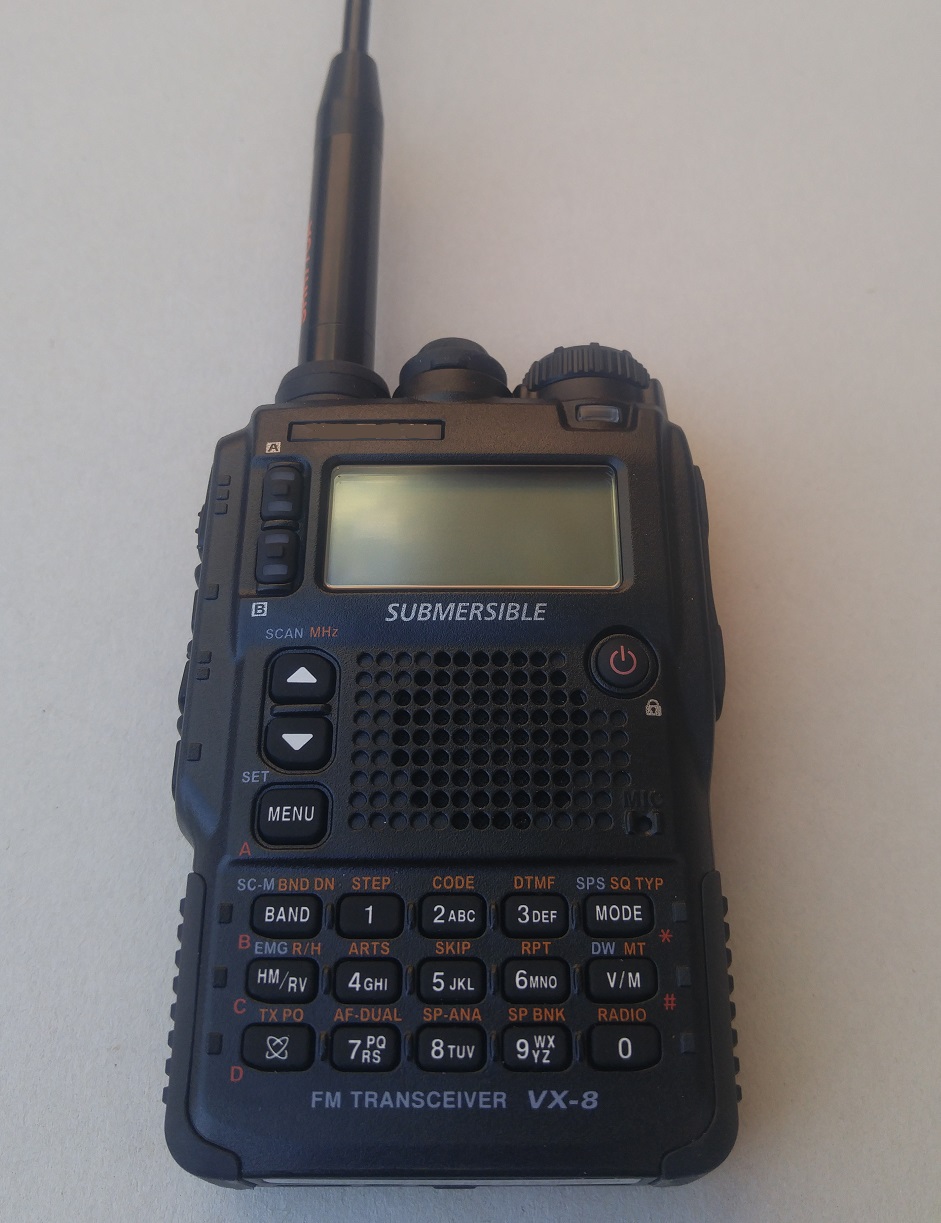 Handheld Ham Radio

First Aid Kit
Everyone should carry some sort of first aid kit.  Chances are, you aren't going to be able to call 911.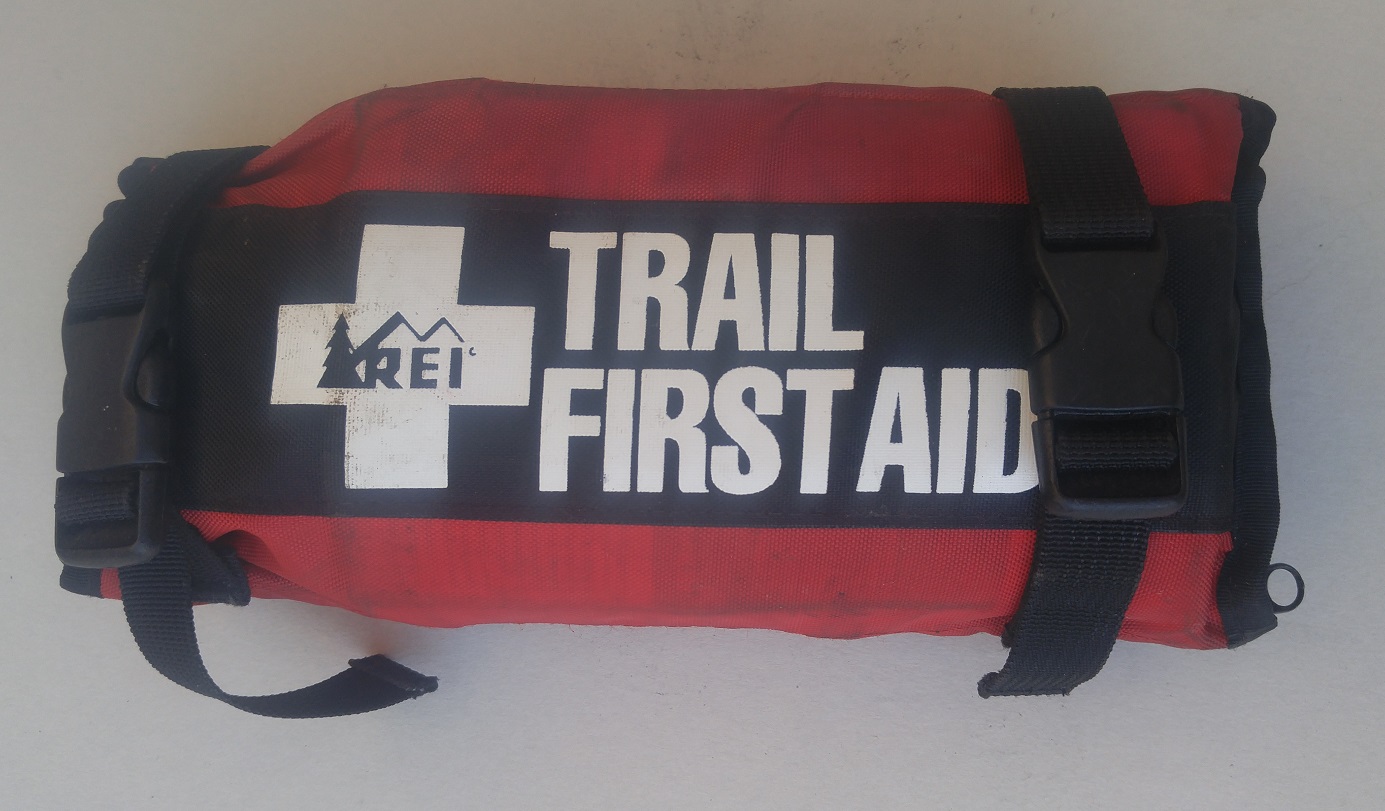 Survival First Aid Kit

Fishing Gear
Your survival gear checklist is incomplete without fishing gear as part a of it.  I have a telescopic (extendable) fishing pole that fits in one of my backpacks side pockets.  I keep my lures in a small, easily transportable case.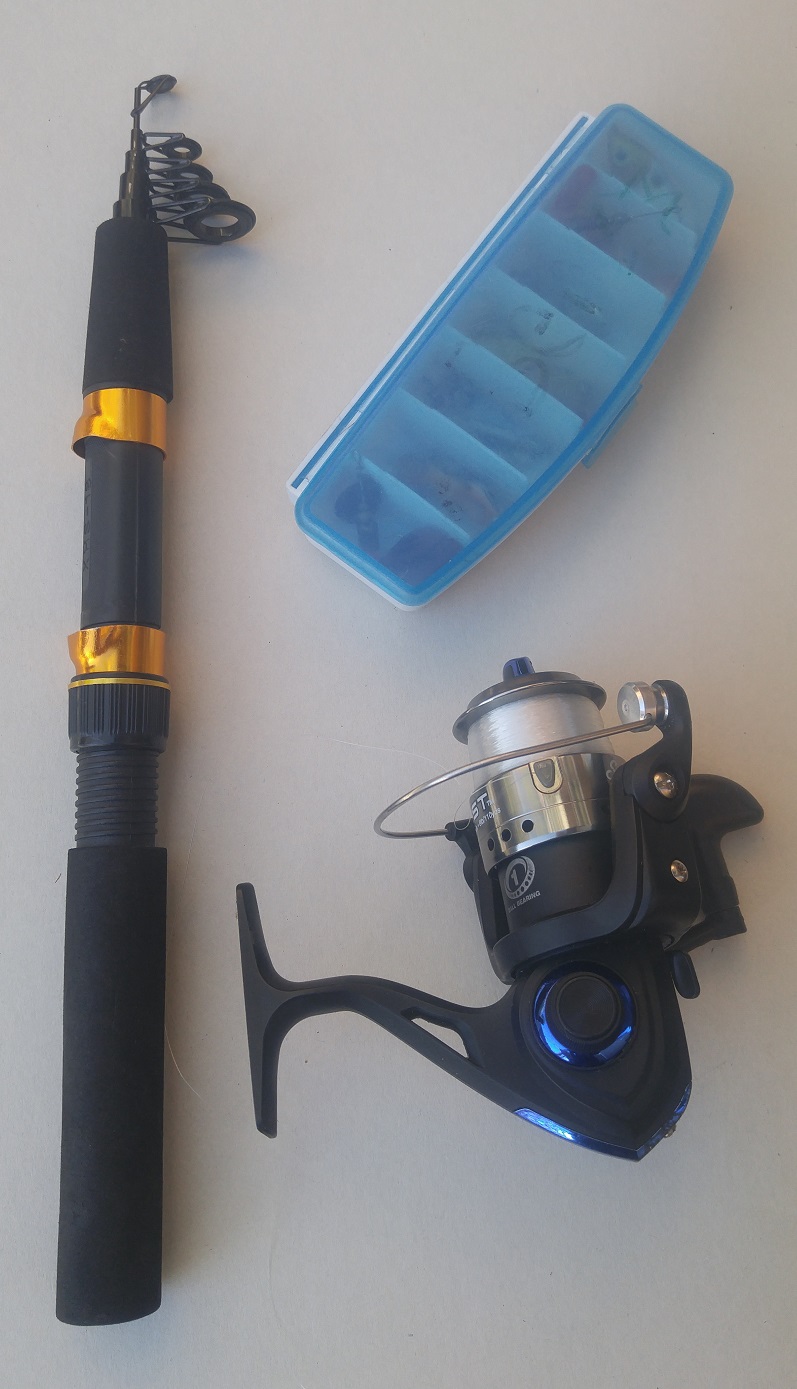 Survival Fishing Gear w/ Telescopic Pole

Hunting Gear
Its smart to consider a gun for hunting and self-defense.  I have 2 guns on my survival gear checklist.  A remingtion 870 Express 12GA for self defense and large animals.  I also include a .22 caliber Beeman Pellet Gun for birds and small critters.  I prefer the pellet gun over a rifle because its quiet, the pellets propulsion comes from manpower so it's endless, and I can carry 500 rounds in my pocket.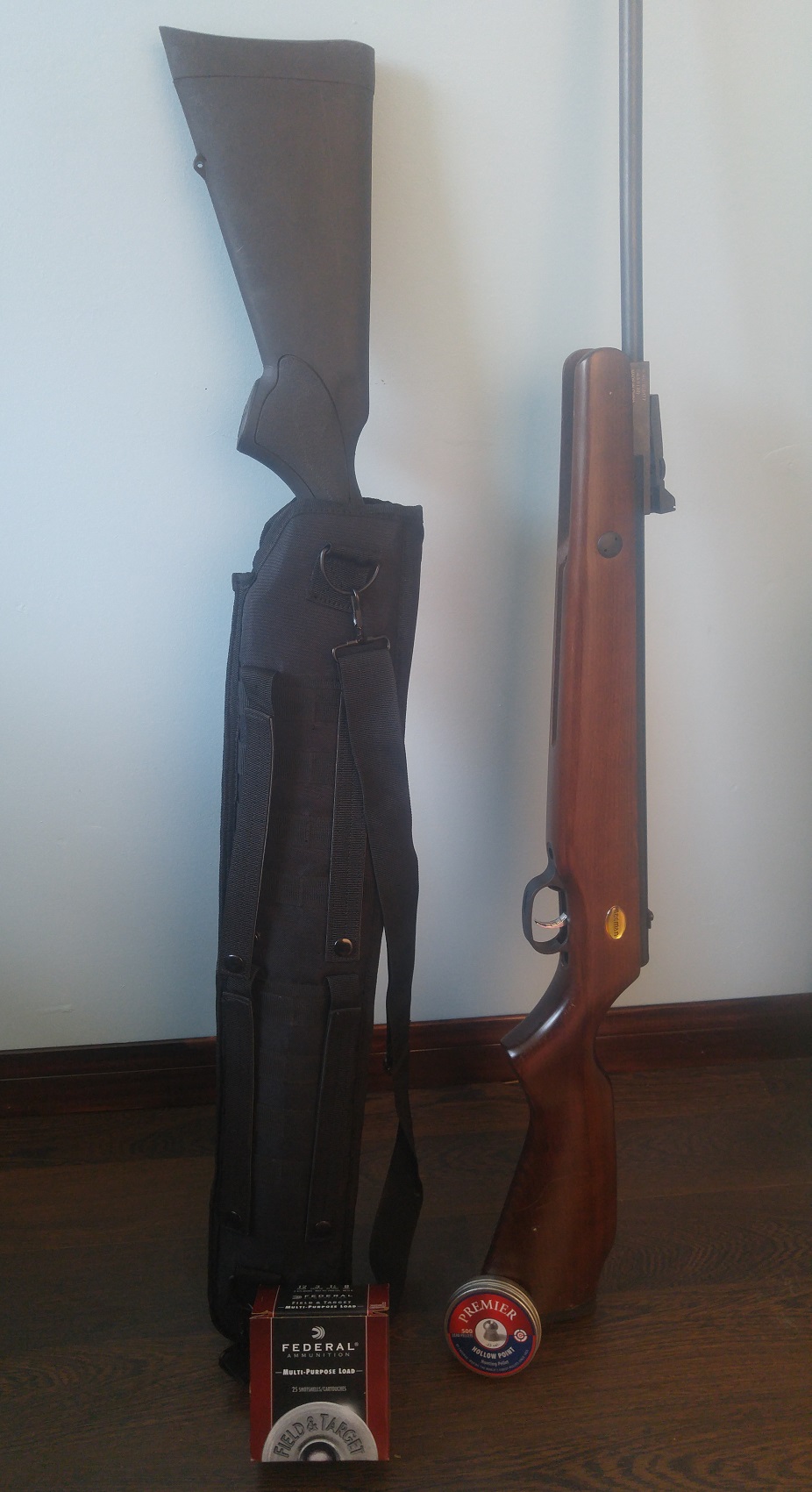 Survival Guns - 12 GA Shotgun and .22 Cal Pellet

Estate Planning Documents
Don't forget to include all of your Estate Planning Documents on your survival gear checklist.  Whatever the situation is that your in, there will be an end at some point and it's important to have all your affairs in order.  I have a billfold that contains all of my official documents that I want to have with me. i.e  Will and Trust, Life and Home Insurance, even a flash drive filled with family pictures, videos and memorabilia that I don't want lost in a Fire, Flood, Hurricane, Tornado or an Earthquake
Click here to see everything you should have in your Estate Planning Portfolio.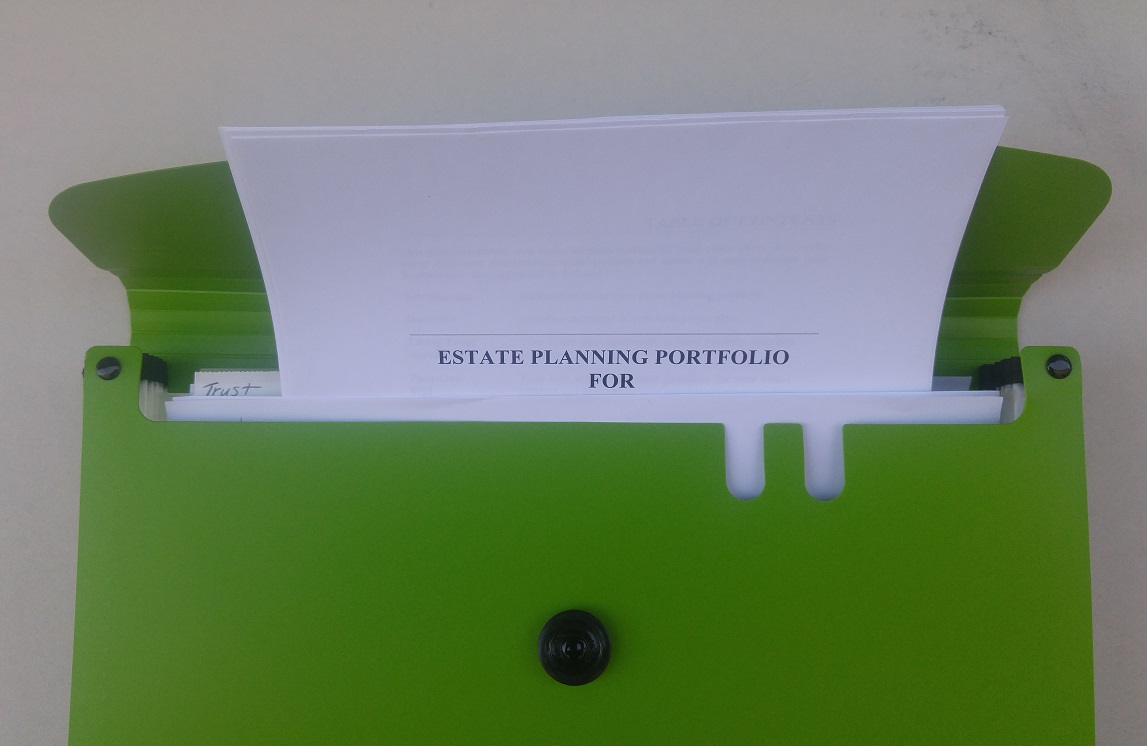 Estate Planning Documents

Complete Survival Gear Checklist
A complete survival gear checklist is shown below...
Survival Shelter - Home, Car, Trailer, Tent
Backpack
Zero or Lower Degree Sleeping Bag
Sleeping Pad
Fire Starters - Waterproof Matches, Lighter, Flint and Mag Striker, Piston Fire Starter
Emergency Water Purification - Hand Pump Filter, Iodine Drops
Water Storage - 32oz Nalgene Bottle, Collapsible Water Storage Bags
Survival Stove, Cooking Set, Sierra Cups, Utensils
Food - Home: Several 100 serving Bucket, Mobile: A weeks supply of individual bagged 4 person meals, Oatmeal, Beef Jerky, Granola Bars 
Power Generation - Home : Gas Generator, Mobile: Portable Solar Generator
Emergency Light - Rechargeable Head Light, Solar Lanterns, Crank Handle Light
Handheld Ham Radio
First Aid Kit
Fishing Gear w/ Telescopic Pool
Hunting Gear
Estate Planning Documents
Cash - Small Bills
Clothing - Convertible Pants (Pants w/ removable legs that turn into Shorts), Polypro Hiking Shirt, Wool Socks, Hiking Boots, Light Weight Camp Shoes (Crocs / Tevas), Camp Pants, Camp Shirt, Camp Towel, Long Underwear, Beanie, Gloves, Long Sleeve Mid layer, Thick Outer Jacket.
Rain Gear - Rain/Wind Hooded Jacket, Pack Cover, Rain Pants 
Miscellaneous - Mirror, Whistle, Compass, Cordage, Duct Tape
Toiletries
A Good Knife or Multi-Tool (Thanks Jeremy)




What Would You Add To This Survival Gear Checklist?
Enter It Here!
What piece of survival gear should nobody be without? Do you know about any new survival gear tech? Share it!
Survival Gear Other Visitors Have Added
Click below to see survival gear checklist additions from other visitors...

A good knife or a multi tool

A good knife or a multi tool is a must have survival item because of numerous reasons; hunting, cooking and the multi tool has many repair features.
Home
› Survival Gear Checklist