The Trailer; Features and Components


Welcome to the product page for Solared Survivors' Solar Powered Survival Trailer. This page outlines all of the components, features and capabilities that make up this self-sufficient, self-sustaining, self-powered, one of a kind unit. 
| | |
| --- | --- |
| Solar Home Generator | A Free Endless Power Source |
| Hook-Up Free Camping | Off-Grid Remote Living |

Trailer Shell
Enclosed 6' W x 12' L V-Nose Cargo Trailer with 6' 6'' Interior Height
Single Axle 3500lb Max Load, so it can be Towed by most Mid-Size SUV's
Insulated Walls
Back Barn Doors w/ RV Latch

Includes Brakes & Rear Stabilizer


Solar and Electrical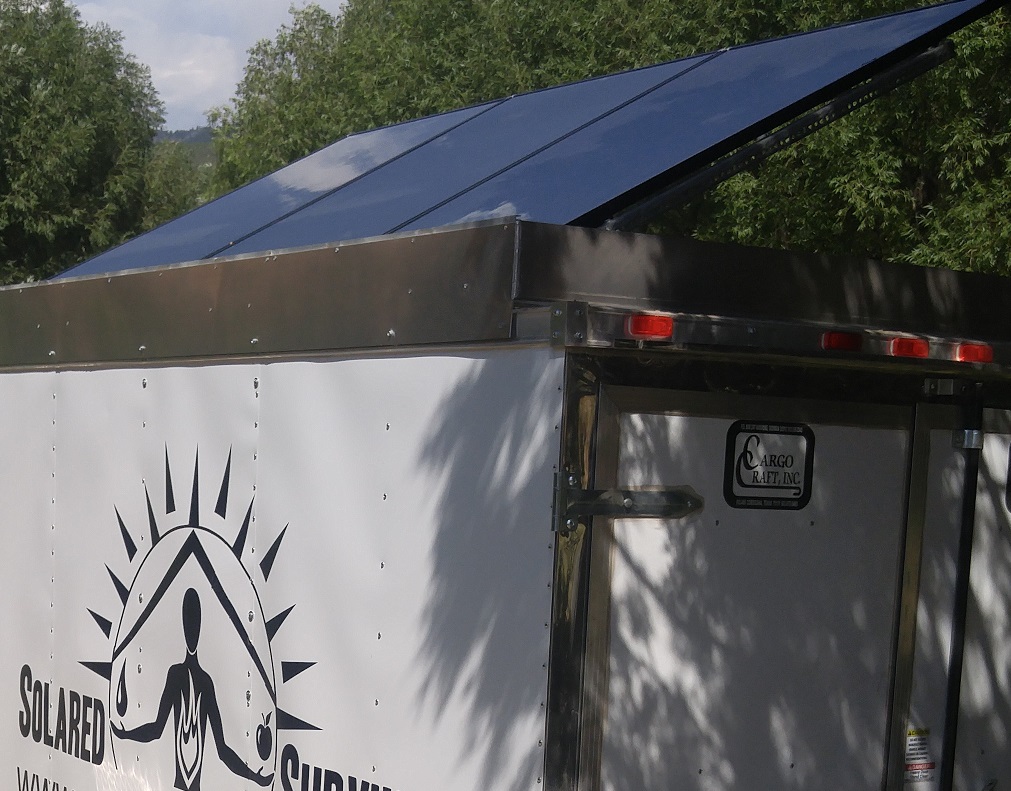 Solar Panels Tilted
Solar Panels
(3x) 280W Monocrystalline SolarWorld Panels
Mounted on Adjustable Pivot Frame, that can tilt up 30 Degrees to improve efficiency by up to 20%
Panels are Wired in Parallel at Combiner Box to Maximize Efficiency in partial shade
Panels can be isolated with DC Disconnect.

---
Charge Controller
Outback FlexMax 60 is a Maximum Power Point Tracking (MPPT) Controller that will increase your solar panels charging performance by up to 30% and will properly manage and maintain the correct charging parameters for the batteries based on the batteries manufacturers specifications.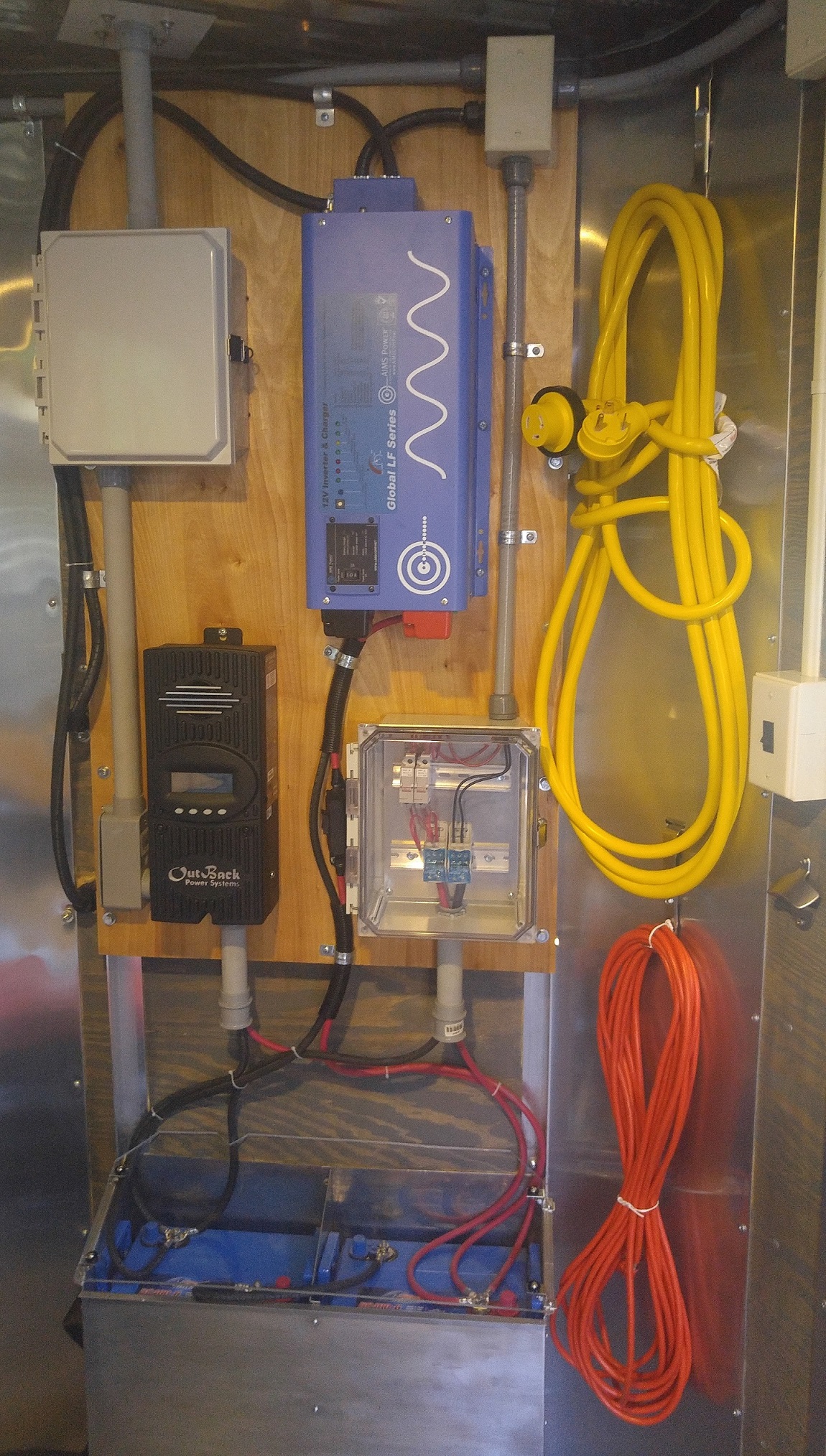 Solared Survivors Power Wall
Trailers DC Power
The Trailer is primarily run on 12VDC, coming directly from the 12VDC Battery Bank through a couple DC Circuit Breakers
Keeping the majority of the power DC, conserves the power in the batteries, since you lose power in the conversion to AC 
Lights, Pumps and Fans all run on 12VDC
There are 3 Outlets throughout, each with (1) 12VDC Socket and (2) 5VDC USB Ports
Includes a 12VDC Adapter Kit to directly power Laptops and DVD Players without having to use the 120VAC Power Supply included with those devices
Includes a 25ft 12VDC extension cord 

Inverter & AC Power
Contains a 2000W Pure Sine Inverter / Charger with a 6000W Surge for 20 secs

Converts the batteries stored 12VDC into 120VAC power
200A Inline Safety Fuse between the Batteries and the Inverter
Since this Inverter is also a Charger, you can plug into the trailer and charge the batteries from any external AC power source, such as your home or shore power
Contains an Interior Dual 120V NEMA 5-15R Outlet for running 120V appliances
There is a 120VAC External Power Panel that allows access to the Solar System and 5kWh worth of batteries from the outside. Essentially making this trailer a mobile Solar Generator that you can use to provide power to a home in an emergency or blackout
Keep it plugged into your home through a Manual Transfer Switch and use the Solar System to reduce your electric bill and keep those circuits off-grid and immune to blackouts
Includes a 50ft NEMA 5-15 Extension Cord
Includes a 25ft TT-30 to L5-30 Extension Cord

---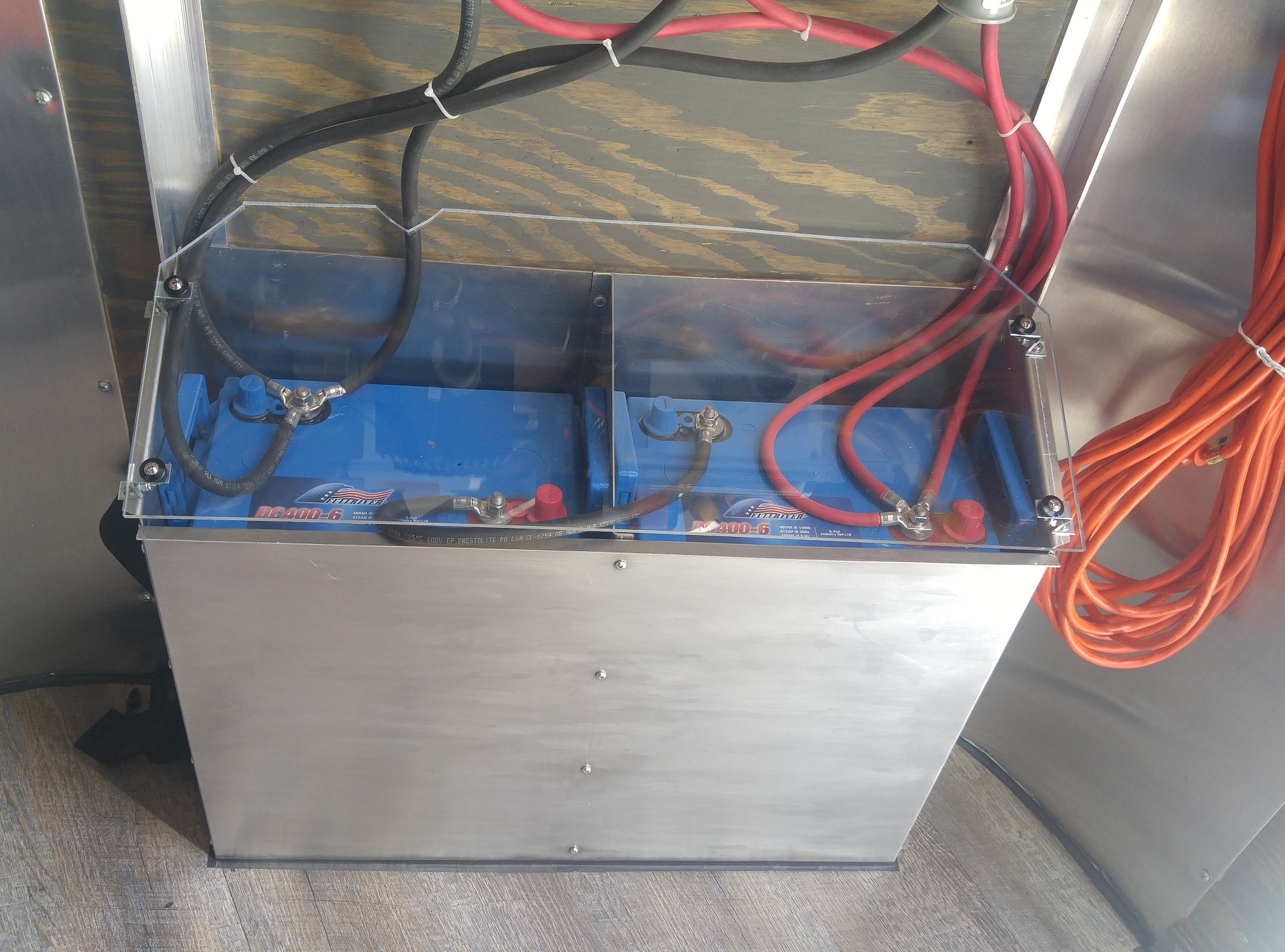 Battery Bank
Batteries
(2x) 6VDC 415Ah AGM Batteries
Wired in series for a total of 12VDC 415Ah or 5kWh
Non-Hazardous, Sealed and Maintenance-free
7 year warranty 

---
External Power Panel
120V AC Power
30 Amp Breaker for TT-30R RV Outlet and Dual NEMA 5-15R Outlets; (Outgoing Power from Inverter and Batteries)
20 Amp Breaker for 120V Plug, used for Charging Batteries from an External Source or Shore Power; (Incoming Power to Charger and Batteries)
Spare Breaker Slot
Pad lockable for Security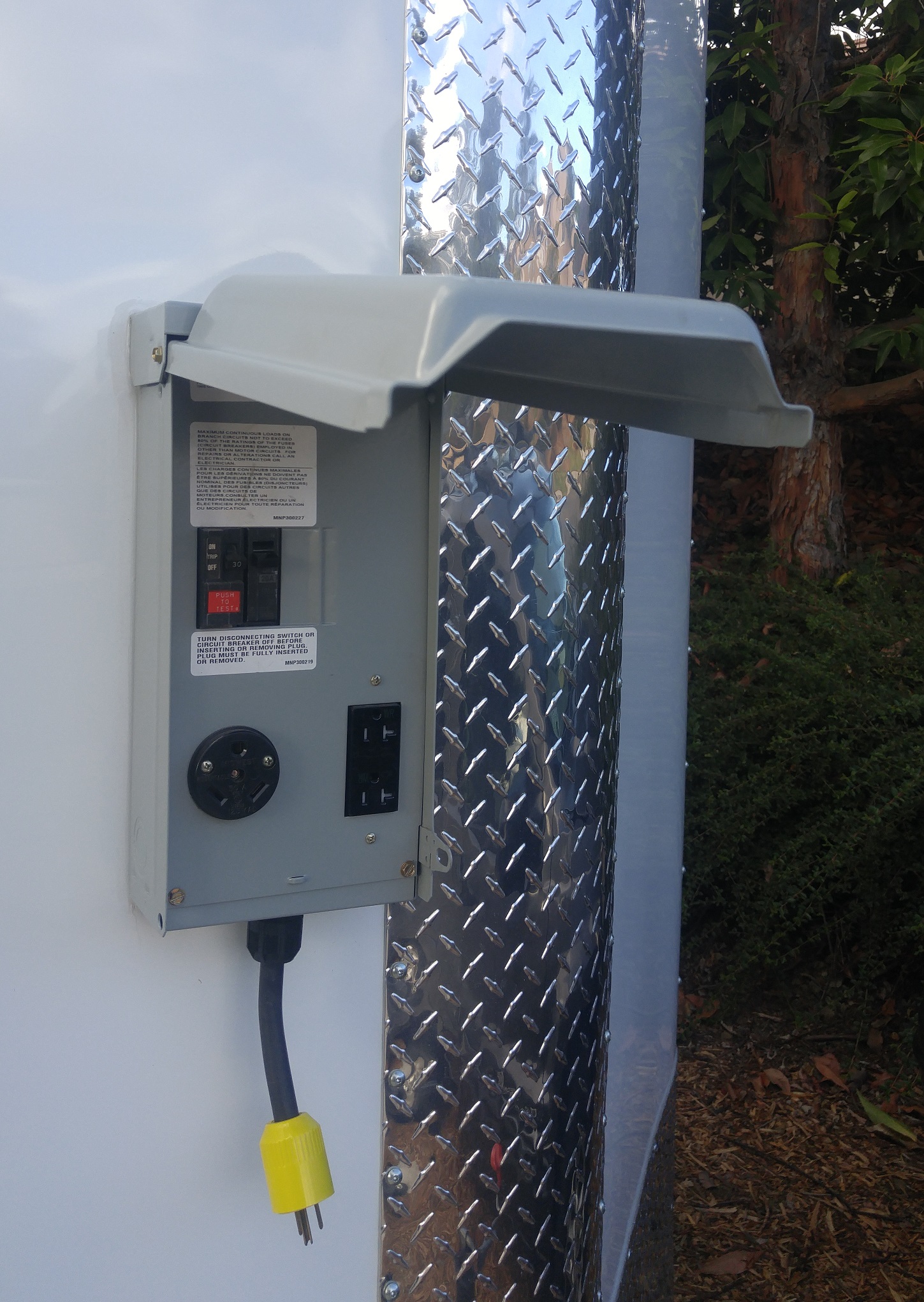 External Power Panel

Kitchen
As opposed to other Survival Trailers, whose kitchens are external and are only accessible by going outside, Solared Survivor's kitchen is internal. There is no need to go outside in the elements or into an unsafe, unknown situation to cook. Food supplies are stored safely inside.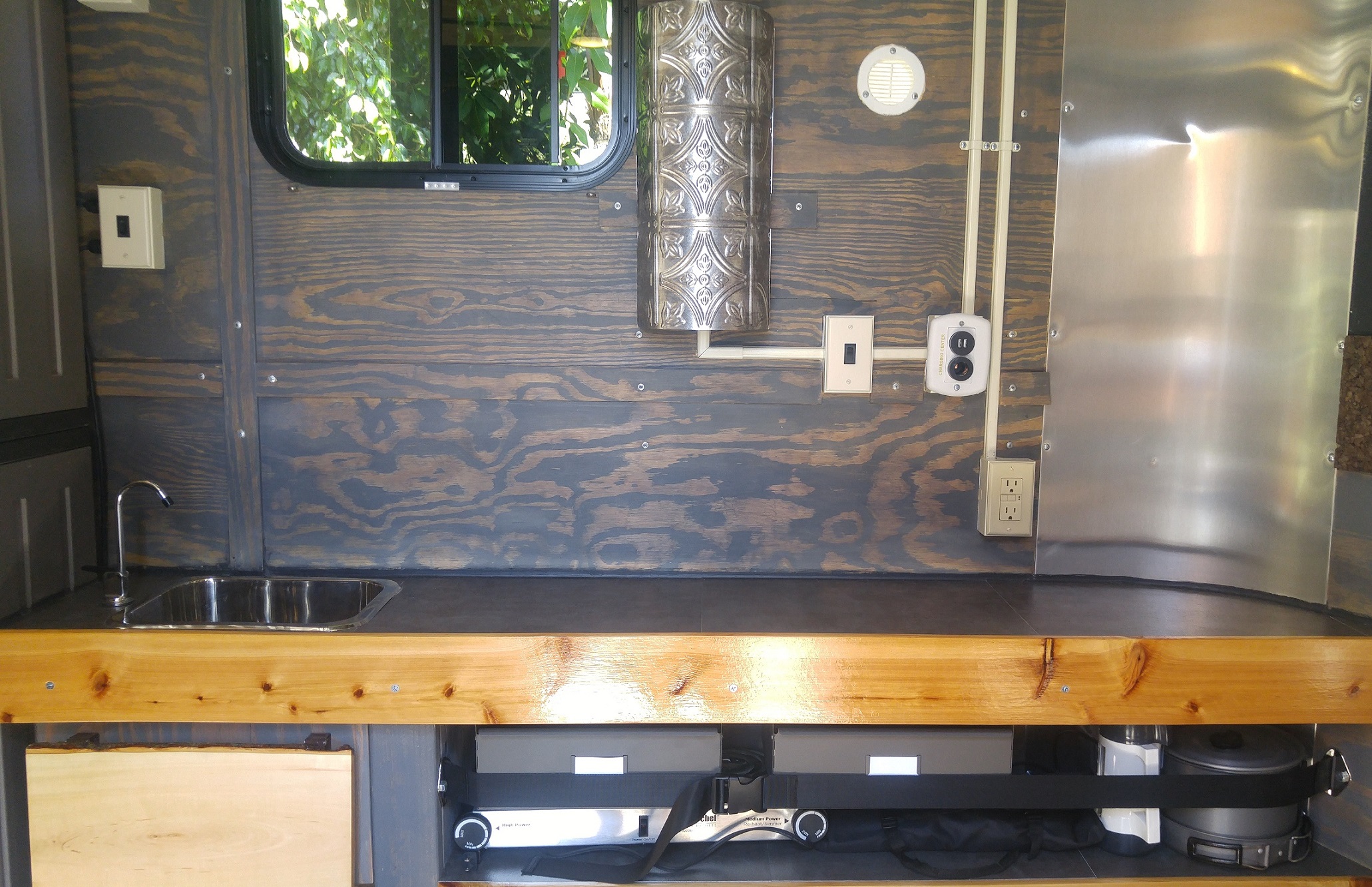 Countertop, Under Counter Area and Cooking Supplies
6ft of Total Countertop w/ an Addition Swing-out "L" Style Counter 
Chrome Plated Brass Faucet fed from Main Tank via 12v Pump
13'' x 10'' Stainless Steel Sink that Drains into an External Grey Water Tank
12v Ventilation Fan & Shroud to Exhaust Cooking Fumes
4ft Lower Counter Shelf for Storing Cooking Supplies
2 Pull-out Drawers for Addition Storage
25 Year Life Emergency Food, 3 Month Supply for a Family of 4
Dual Stovetop Burner
Back-up Biolite Wood Burning Stove
Pots and Pans
Utensils and SS Dishes
12V Water Boiler
12V Skillet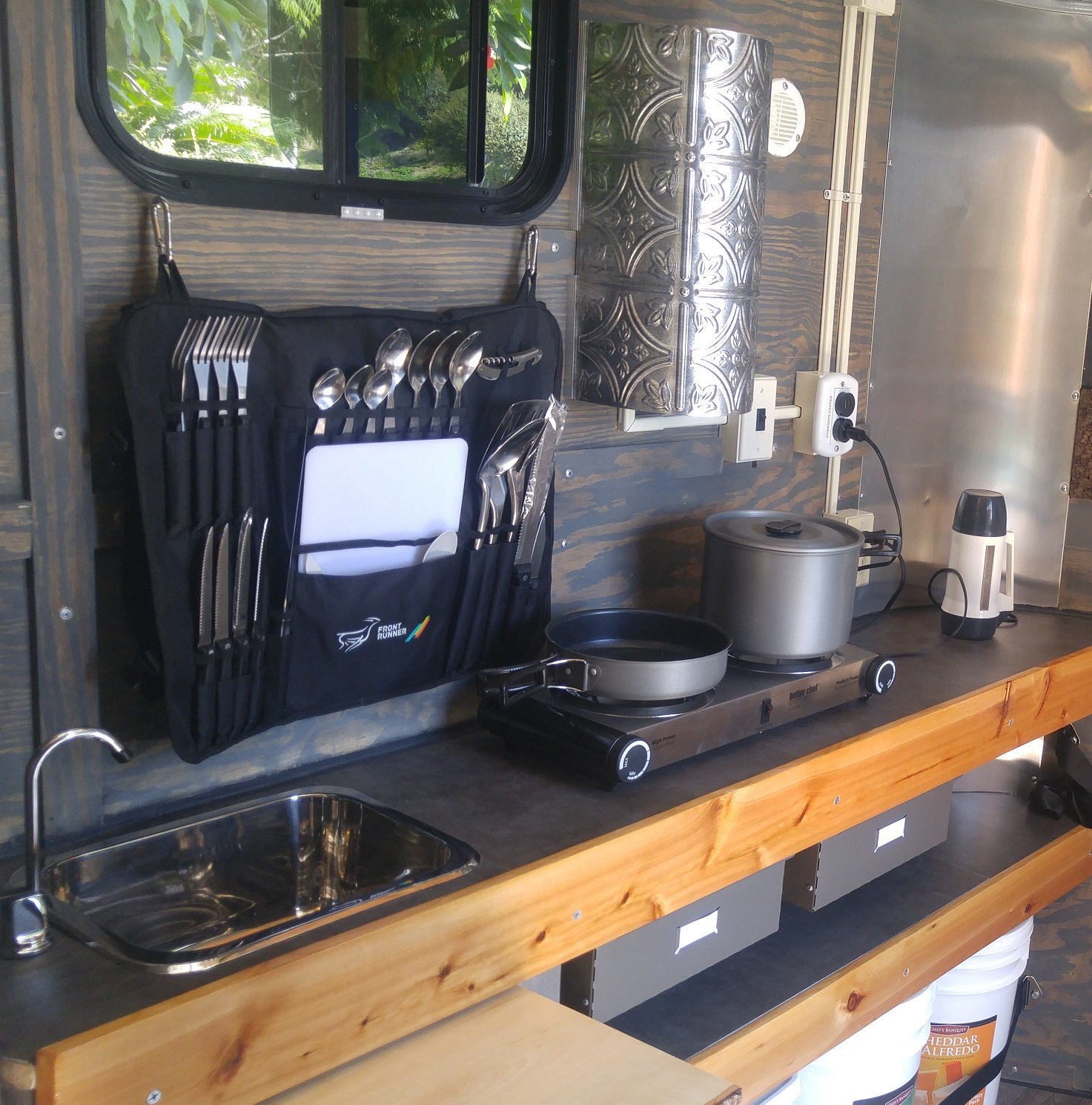 Chalk and Cork Boards
The Chalk Board is perfect for Reminders, To Do Lists, Schedules, Goals, and any Plans or Future Itineraries

The Cork Board and Pins will organize your paperwork and keep them all in one place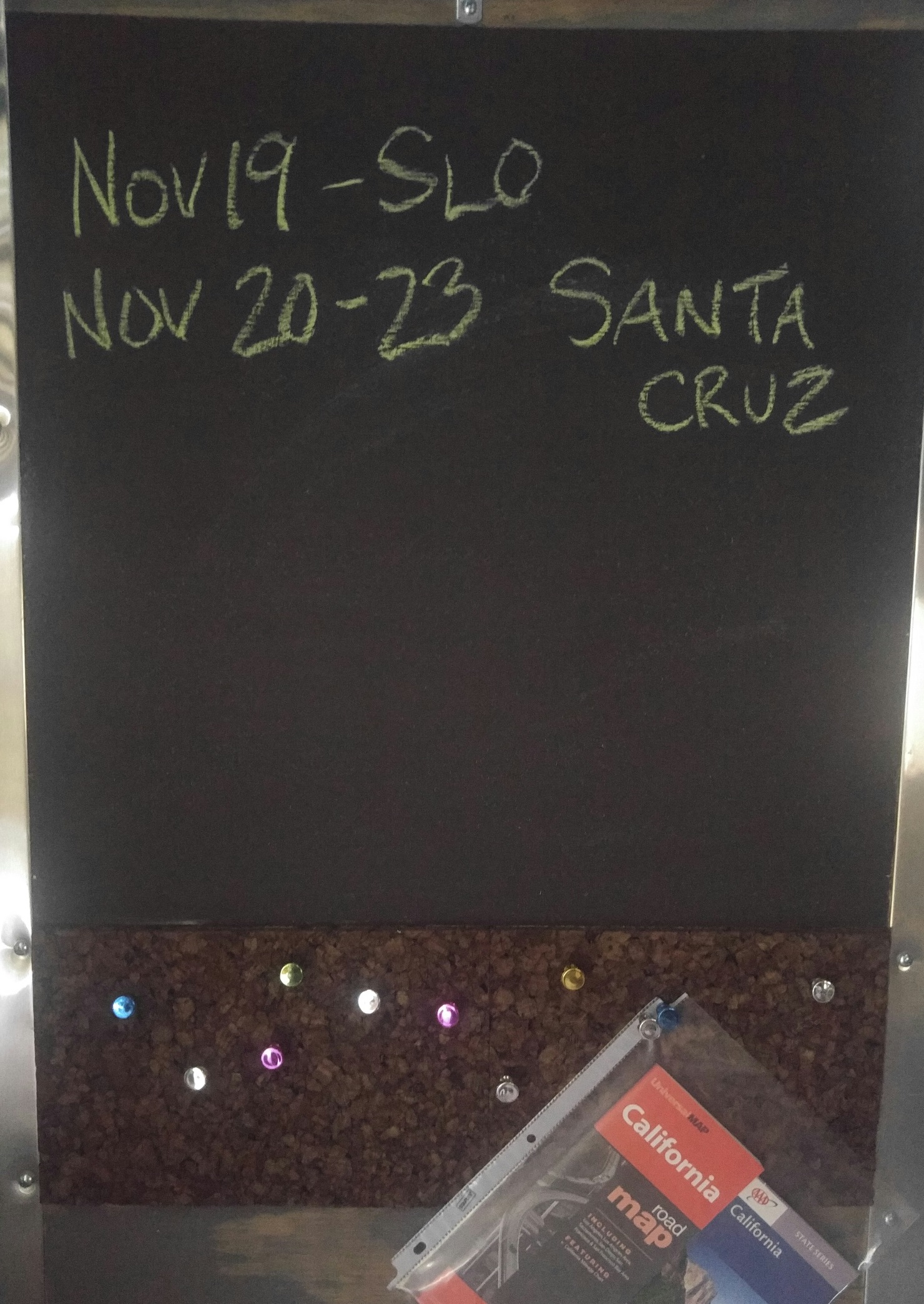 Water Components and Features
Rain Water Catch System
Any water that lands on the Solar Panels, is automatically routed, pre-screened and collected into the Gravity Filter Tank.
Place Snow onto the Solar Panels to Capture the Melted Water Runoff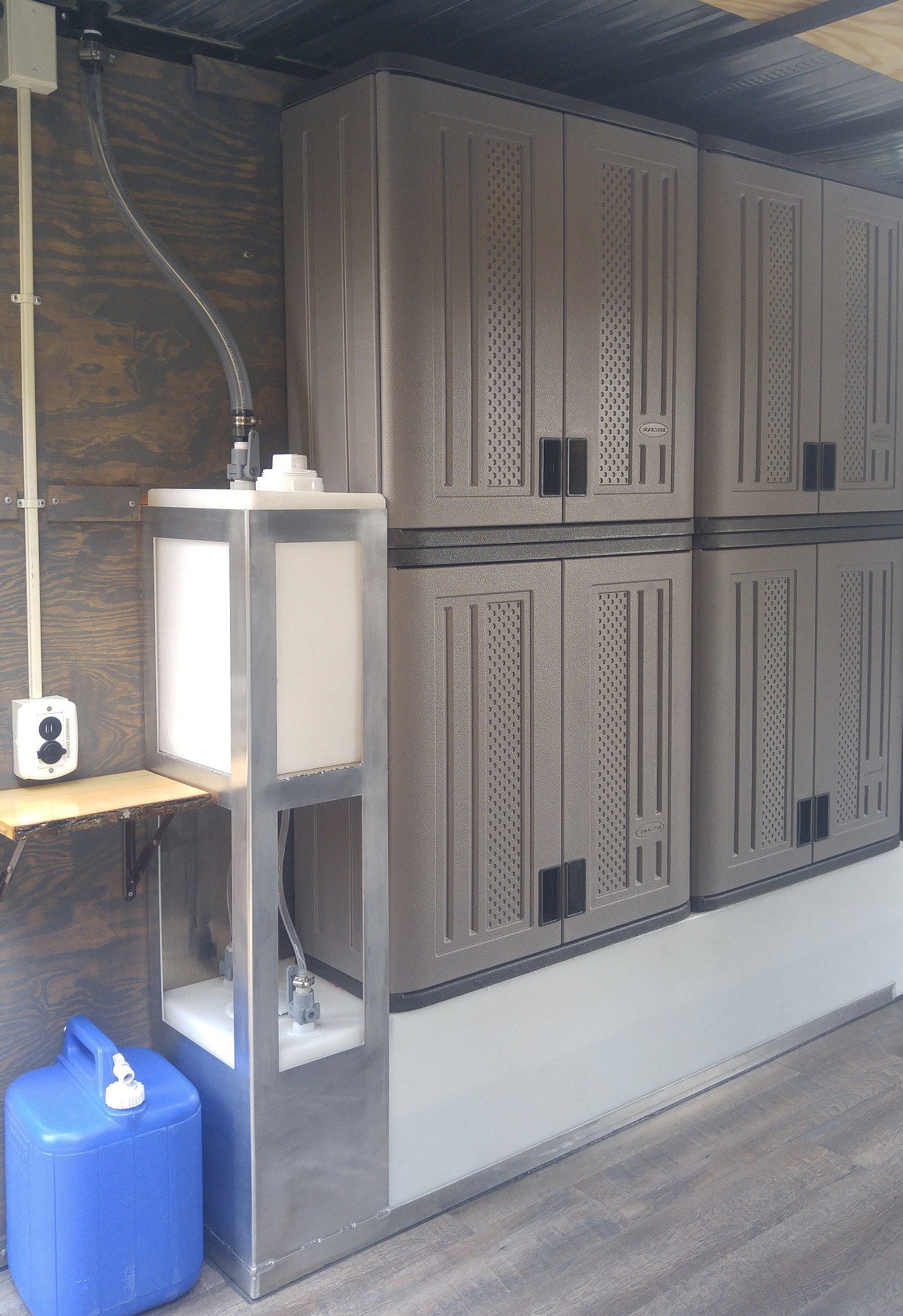 8 Gallon Gravity Filter Tank
Gravity Filter is Automatically Fed from the Rain Water Catch System.

Contains an Independent Filling Port for Pouring in a Skeptical Water Supply to be Automatically Filtered
Water in the Gravity Filter Tank is Filtered and then feed into the Main Tank.

53 Gallon Main Water Tank
The Tank is fed Automatically from the Gravity Filter
It Contains an Independent Filling Port to Bypass the Gravity Filter, if you already have a Clean Water Supply or prefer to use a Hand Pump Filter
The Water from the Main Tank is Automatically Pumped and Feed to the Sink Faucet  

6 Gallon Grey Water Tank
Mounted underneath the Trailer
Collects the Grey Water from the Sink Drain
1/4 Turn Valve Makes it easy to Drain or use for Plants
Contains Overflow Valve, In case it gets too full, it wont back-up into the Trailer


Storage and Gear
The equipment in Solared Survivor was selected to provide as much versatility as possible to its owners. It's first purpose is to meet all your needs while living out of the trailer for an extended period of time. But since situations can change and there may be a need for the owners to leave, the storage system and gear selected is portable and will meet all your needs if you have to flee on foot.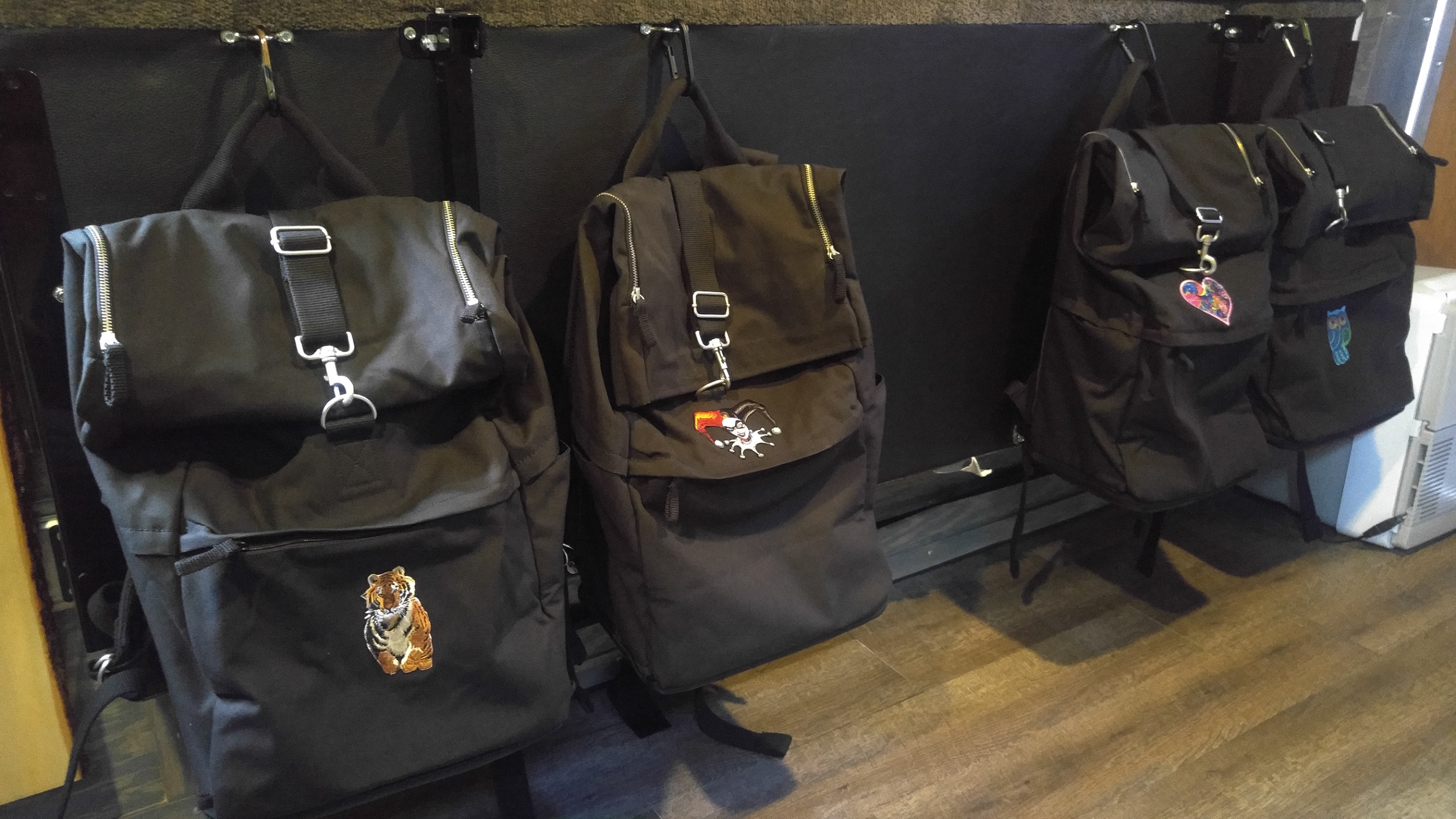 Personal Storage / Bug-Out Bags
Personal Storage
Storage / Bug-Out Backpacks and 20 Degree Sleeping Bags are provided

2 Sleeping Bags can Zip together to form 1 Double Sleeping Bag

Store Personal Items, Clothes, Toiletries in each persons Backpack

Backpacks and Sleeping Bags Stow away when not in use

Backpacks are attached by a carabiner and can be easily removed for day / overnight hikes or in case of an emergency situation that requires you to evacuate the trailer.
---
Pad Lockable Storage Cabinets (x4)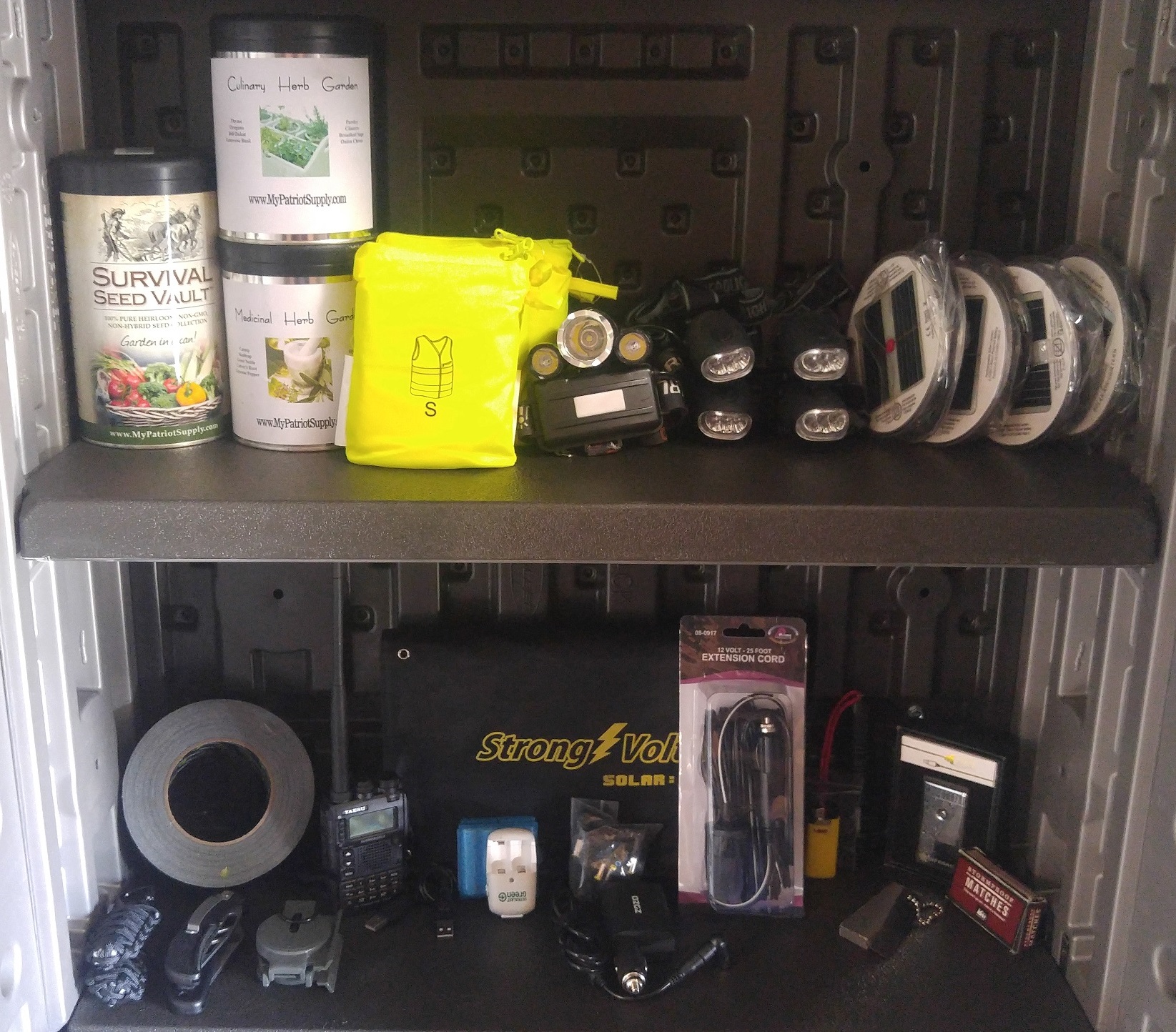 Cabinet #1
Survival Seed Vault
Culinary Herb Seeds
Medicinal Herb Seeds
Reflective Vests (X4)
Solar Lanterns (X4)
Hand Crank Rechargeable Head Lights (X4)
Ultra-Bright Headlamp
Duct Tape / 550 Cord
Knives
Compass
Ham Radio

Portable Solar Panel

Rechargeable Batteries and Charger

12VDC Adapter Kit to directly power Laptops and DVD Players without having to use the 120VAC Power Supply included with those devices

25ft 12VDC extension cord

6ft USB to Micro-USB Cables (x4)

Rechargeable Electric Lighter
Waterproof Matches
Piston Fire Starter
Magnesium / Flint Striker

---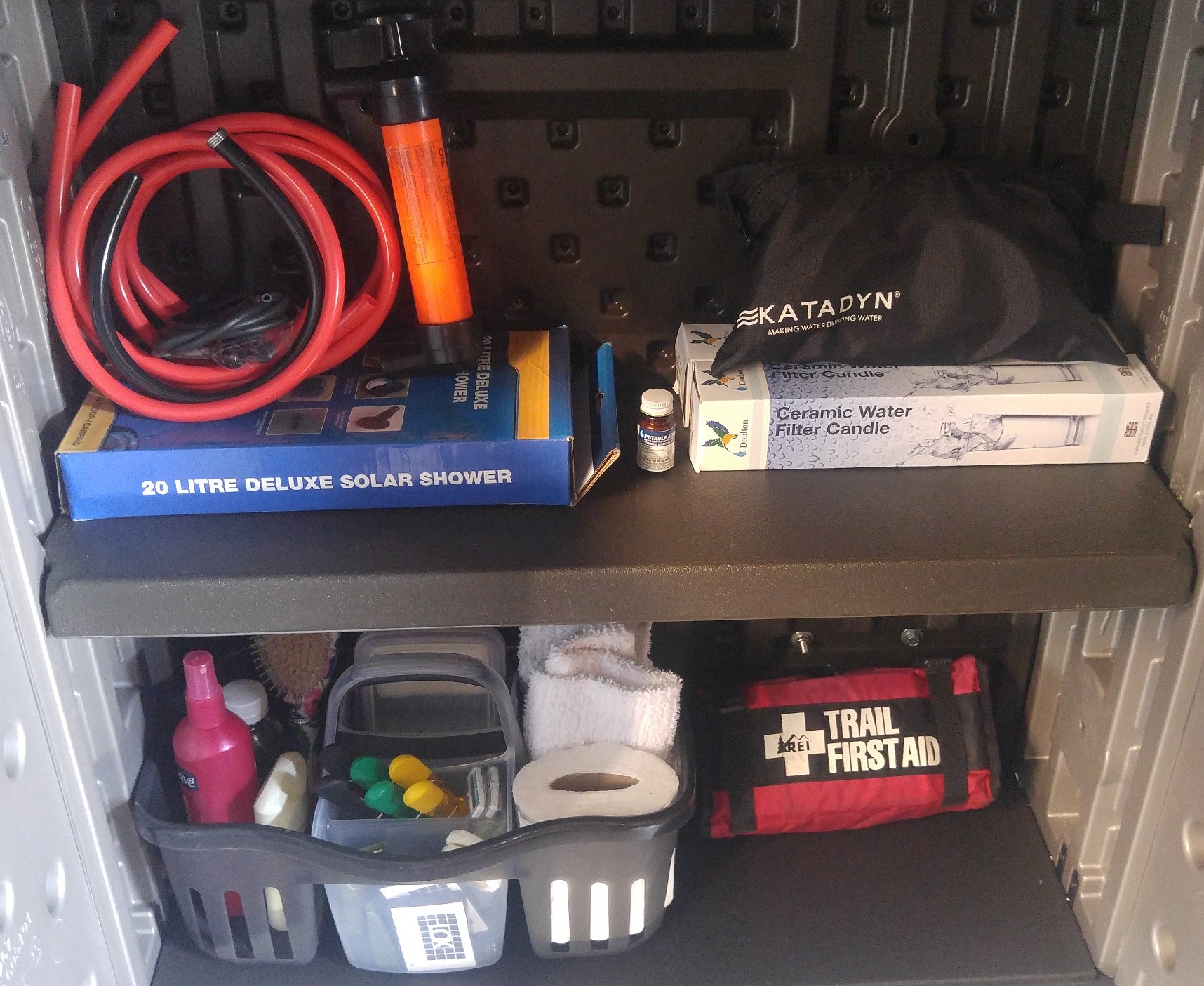 Cabinet #2
Hand Pump Water Purifier
Iodine Drops
Spare Gravity Filter Cartridges

Siphon Pump
Solar Shower
Portable Toiletry Traveler 
First Aid Kit
Space for Medicines
---
Cabinet #3 & #4
Cabinets #3 and #4 are left empty

These Cabinets are the closest to the kitchen and are intended to be used as a pantry or additional storage. 
---
More Gear...
Dual Gun Rack (Shotgun Not Included)
.22 Caliber Pellet Gun, Spring Loaded Break Barrel
Fishing Pole Rack with 4 Rod and Reels
Ammo Bag with Shoulder Strap
Fishing Tackle Bag with Shoulder Strap
Hatchet
Fire Extinguisher

Gun Racks and Fishing Poles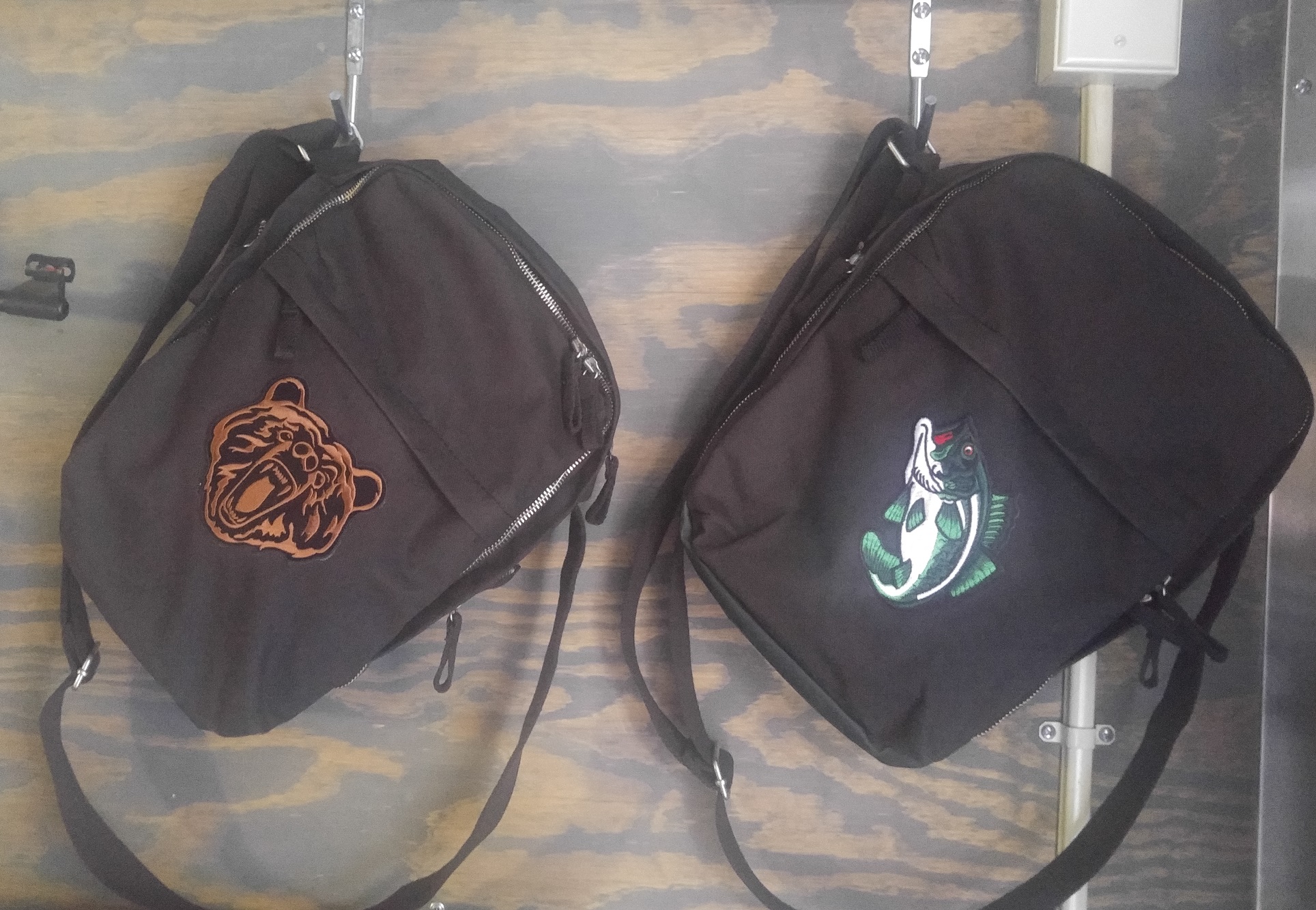 Ammo and Fishing Tackle Bags
---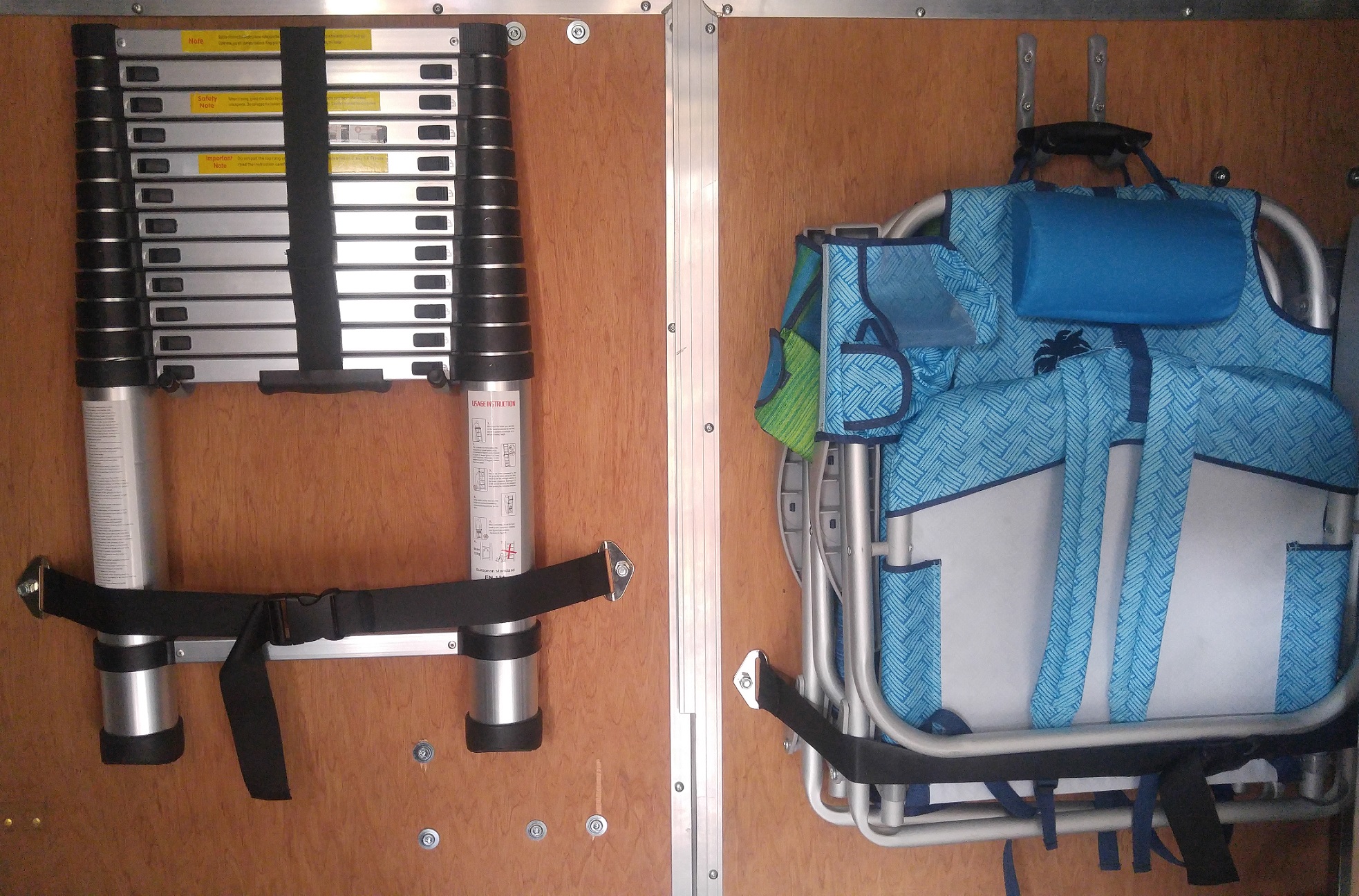 Extension Ladder and Chairs
And More Gear...
Extension Ladder
Outdoor Reclining, Lounge Chairs

---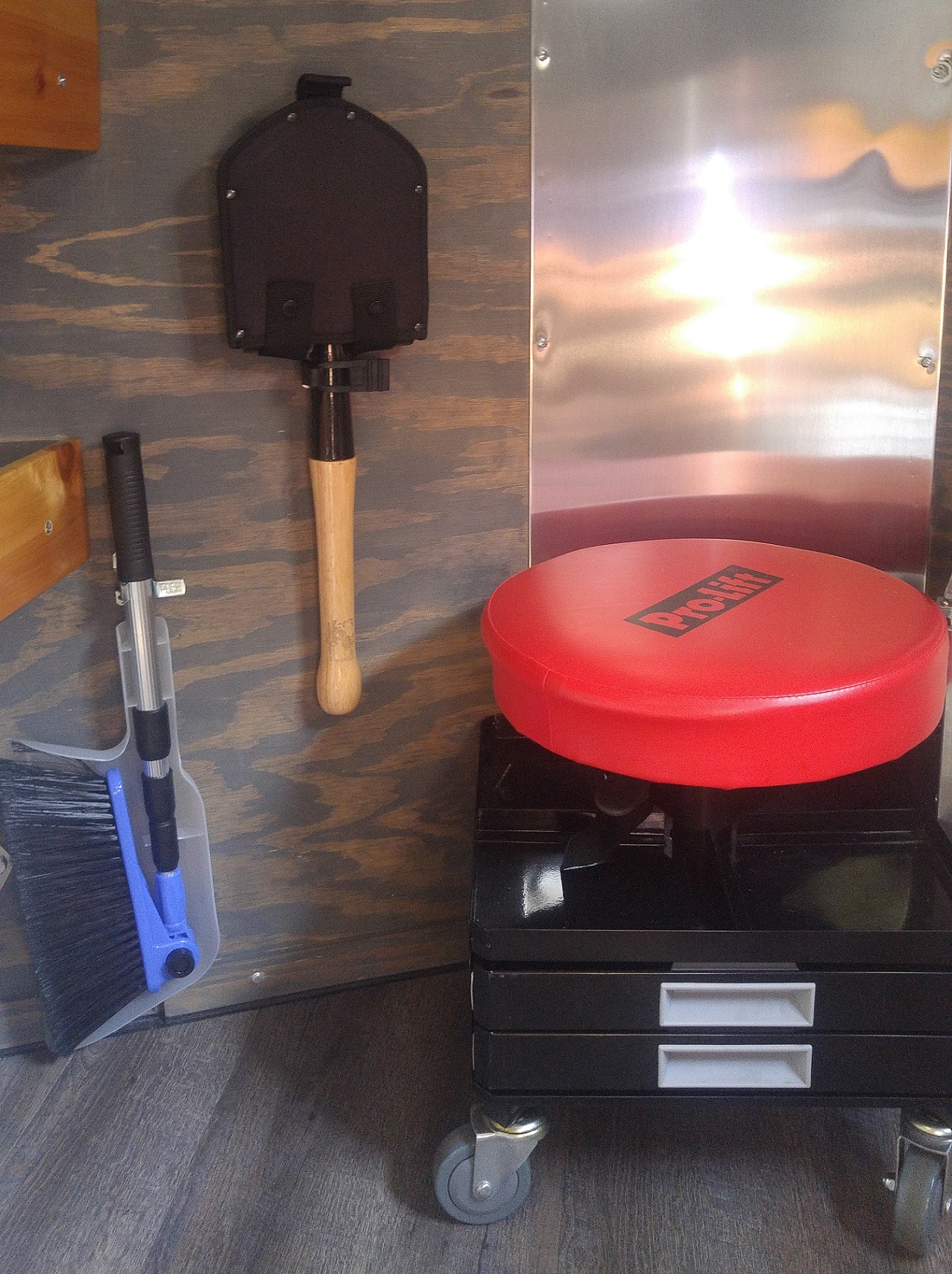 And Even More Gear...
Extension Broom and Dustpan
Military Style Shovel w/ Sheath
Rolling, Hydraulic Tool Box Seat
The Tool Box contains all of the tools necessary to service and maintain Solared Survivor and it's components while living remote or off-grid.

---
Sleeping and Lounging Area
The living space of Solared Survivor can transform from a couch with an end table, to a bed with a nightstand, or fold-up completely to maximize the trailers floor space and allow owners to still have the capability to haul cargo, bikes, motorcycles, etc. It also includes a 12V Fridge.

Couch with an End Table Mode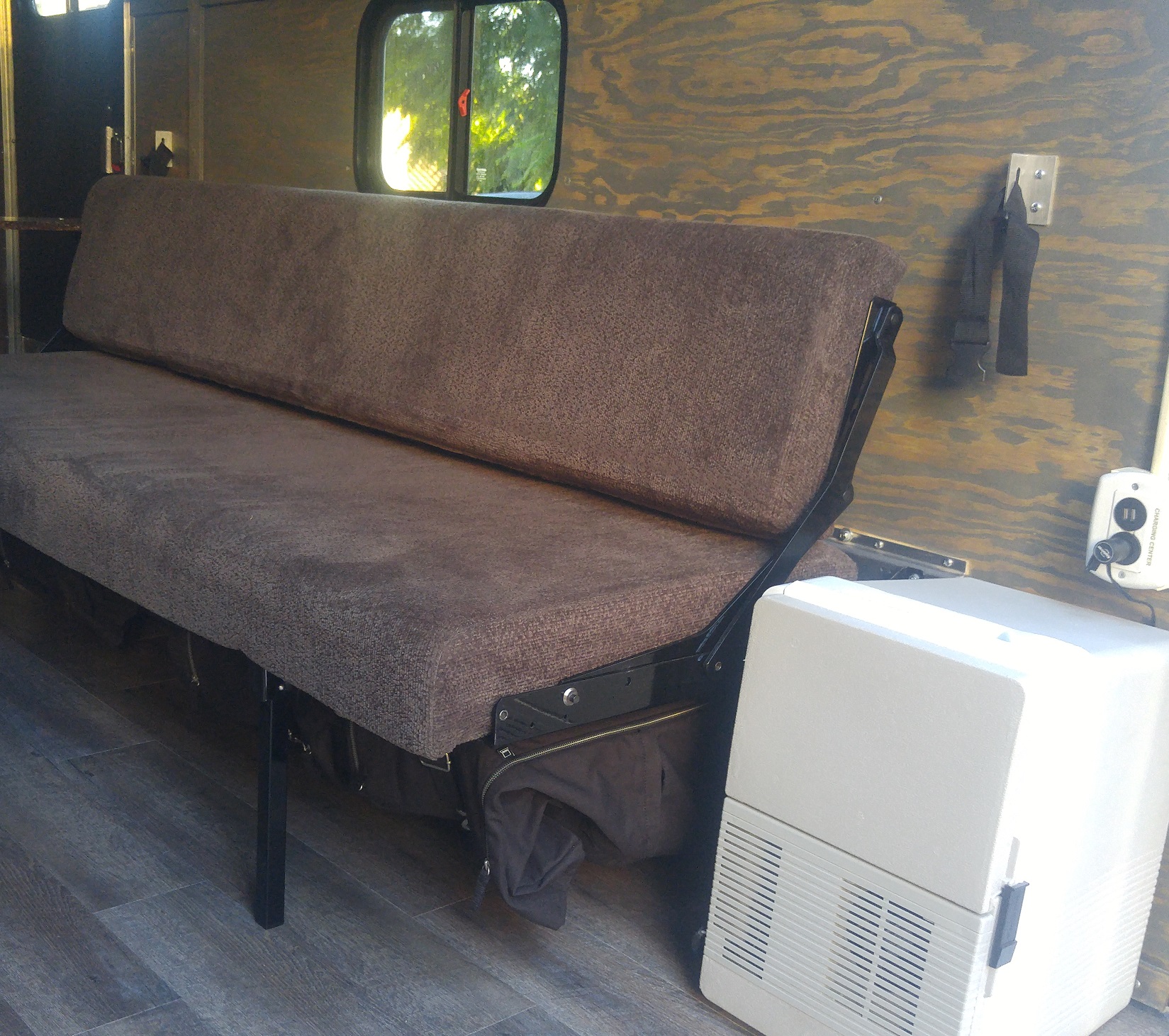 ---
Bed with a Nightstand Mode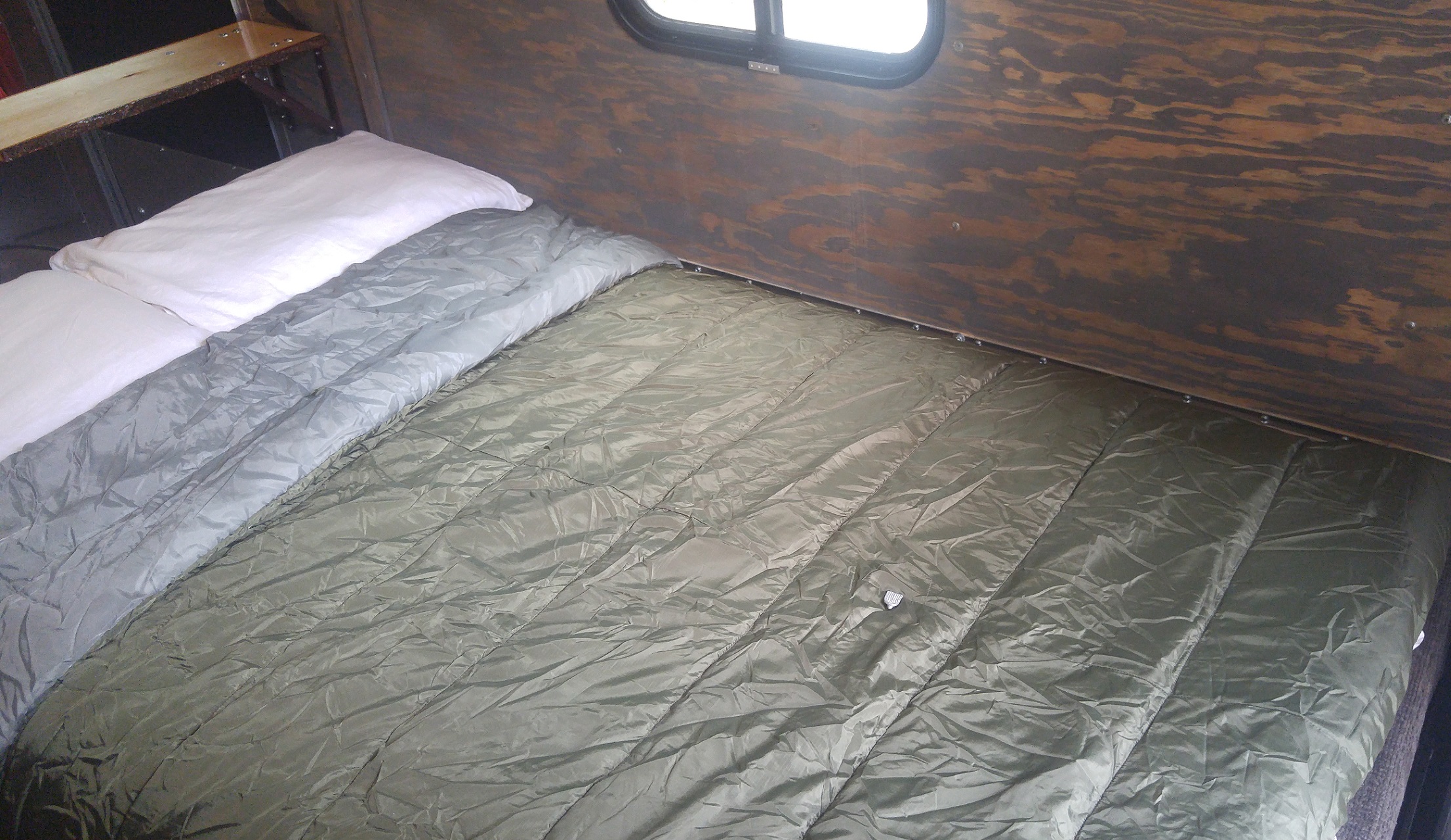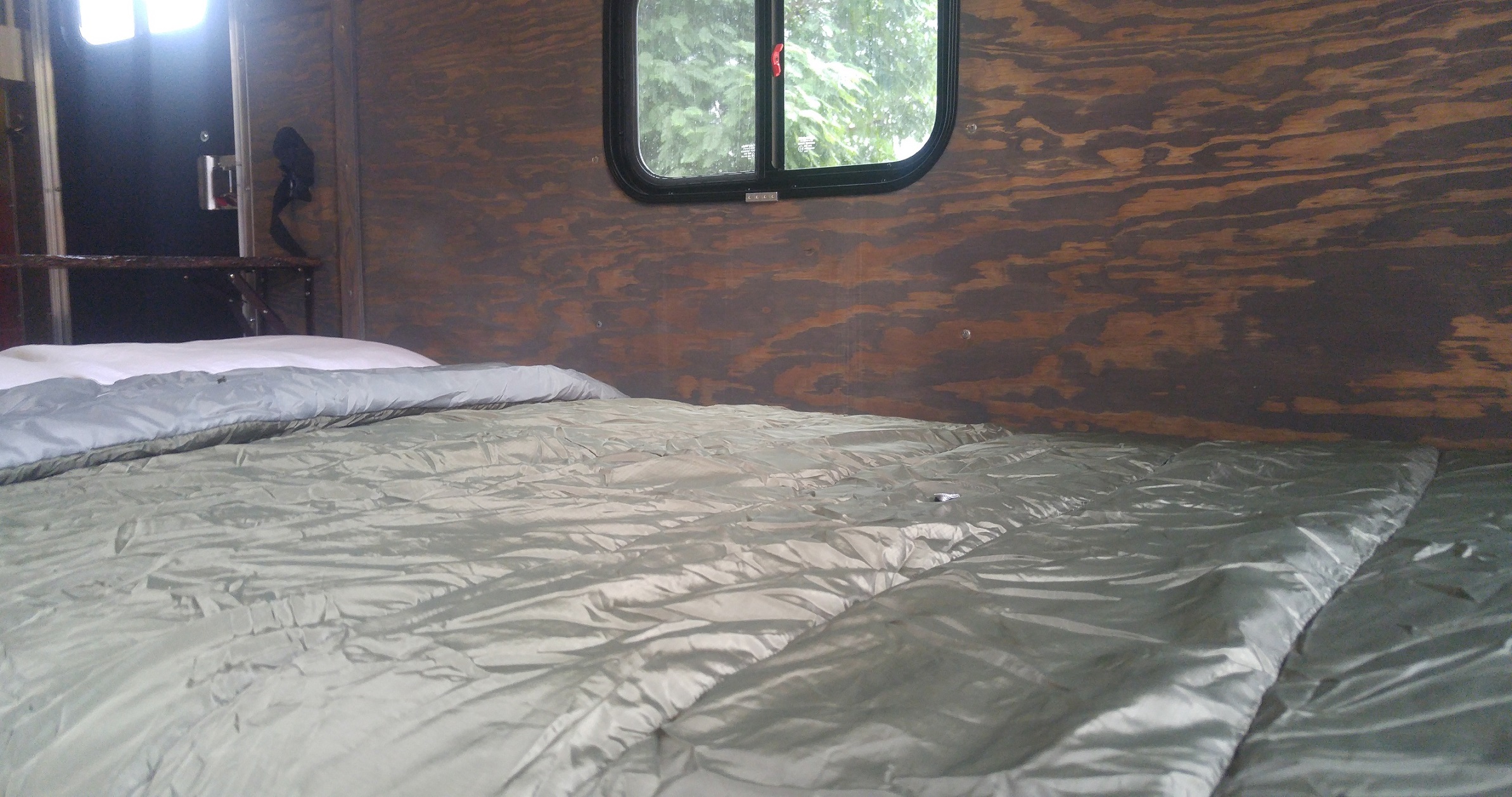 Folded-Up Position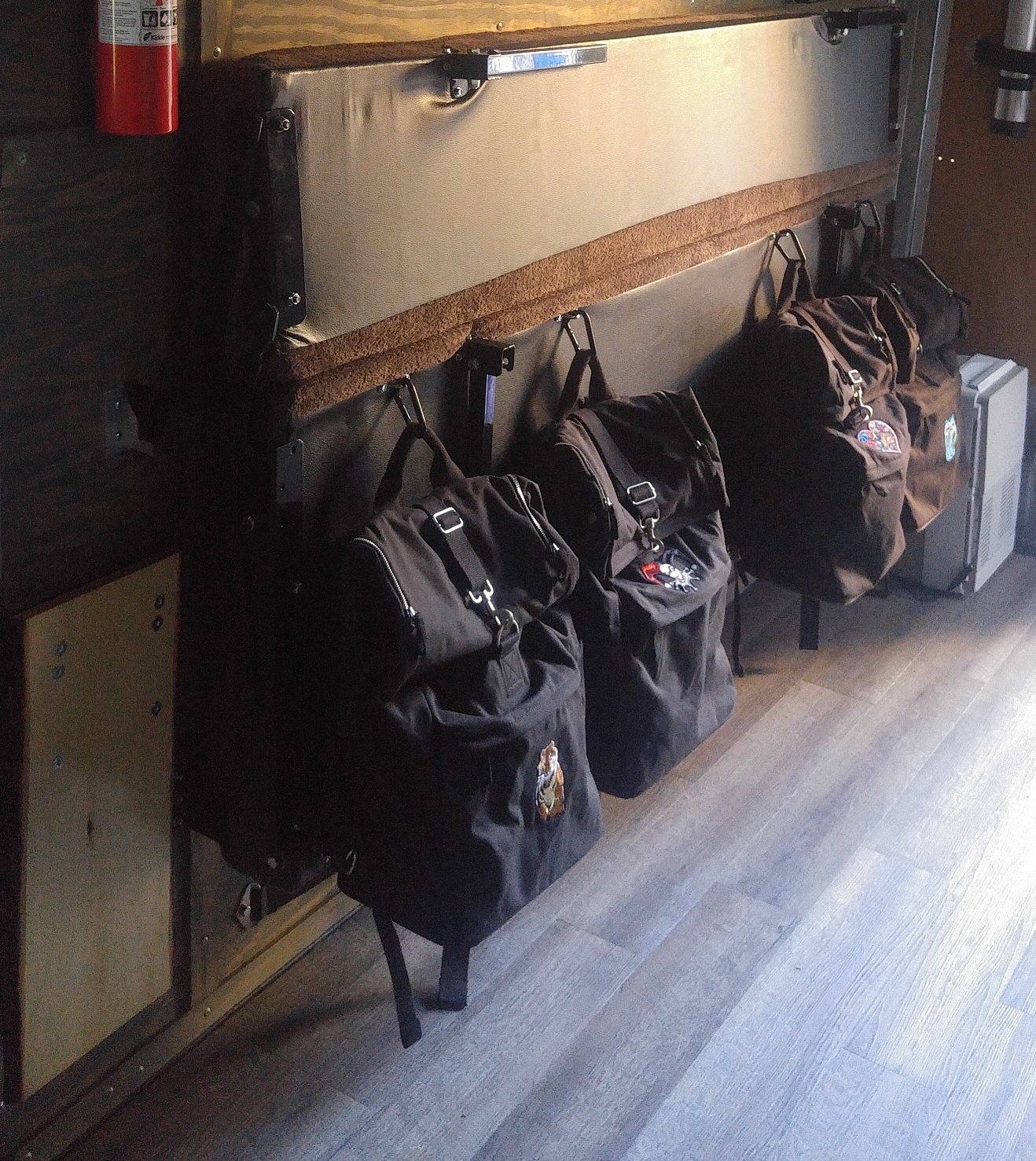 SOLARED SURVIVOR

For More information, Email us at: info@solaredsurvivor.com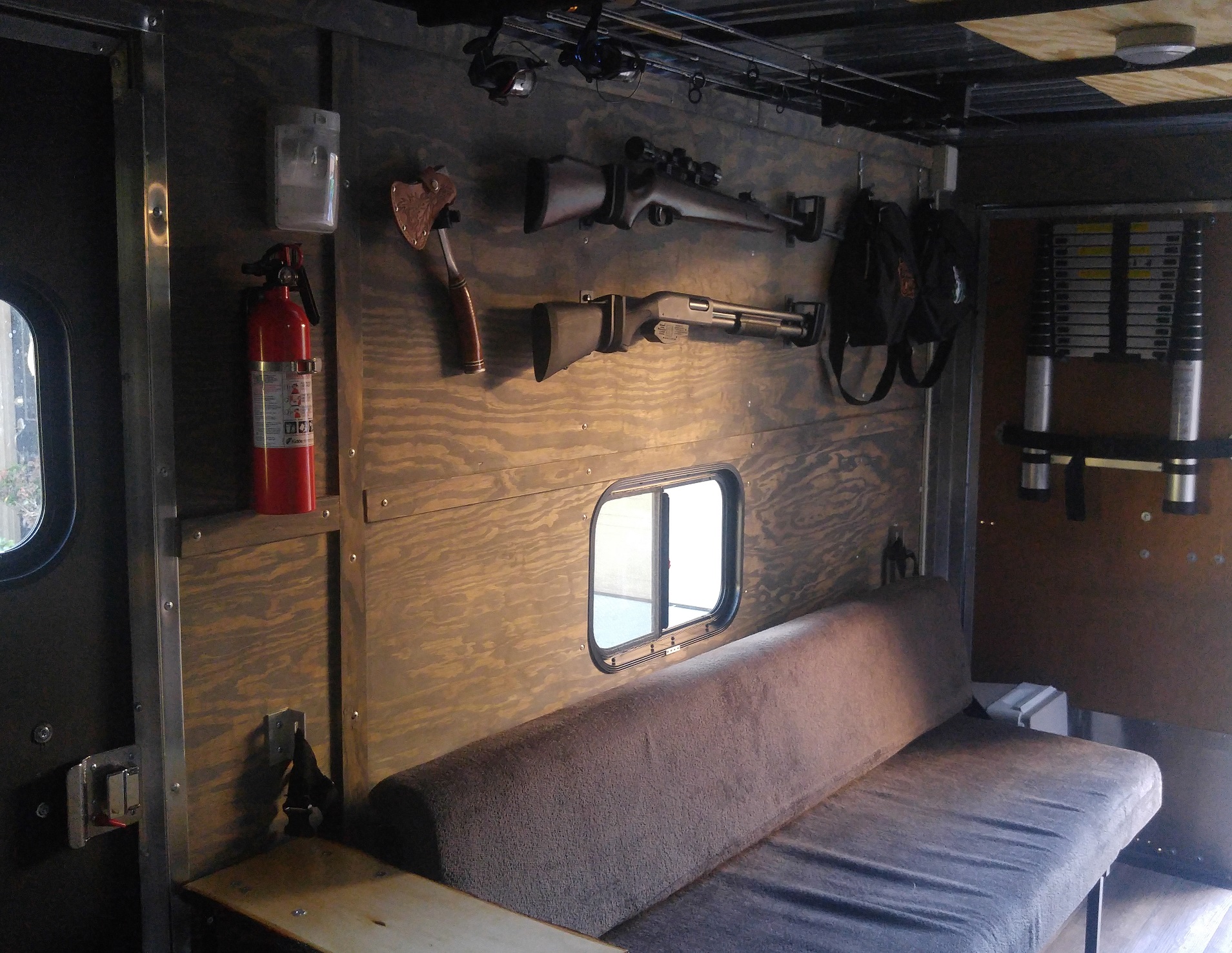 Additional Options
12v Desalination Pump for Coastal Residents
ARB Fridge/Freezer
Home
› The Trailer